Taba Cheapest Fares
To search and book flights to Taba in 2017 and 2018, please enter your requirements and click the search button above.
The Great Resorts of Taba, Egypt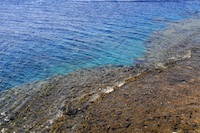 Taba is located at the extreme northern end of the Gulf of Aqaba. Its main economic significance is that it is Egypt's busiest border with Israel. As a holiday destination, Taba is quite popular with those who have included Egypt as part of a tour of Israel. On its own merit, Taba is frequented by international tourists because it is a part of Egypt's famed Red Sea Riviera.
The Red Sea Riviera includes a string of luxury resorts along the western shores of the Gulf of Aqaba and along the eastern coast of Egypt. The resorts feature warm weather year round, peaceful and welcoming waters, endless shorelines and a wealth of natural and archaeological attractions. Taba has three important resorts that will spoil the traveller for choice when it comes to luxury and pampering. They are the Hyatt Regency Taba Heights, the Sofitel Taba Heights and the Hilton Taba Resort and Nelson Village. These three hotels all offer absolute luxury with expansive suites, access to pristine private beaches, numerous restaurants that will cater to every culinary fantasy and other world class services and amenities.
If these manmade wonders are not enough to satiate your hunger for exotic luxury, the Coloured Canyon is located just 50 kilometres south of Taba and is a highly recommended destination where travellers can marvel at the beauty of nature. The Fjord, which is 15 kilometres south of Taba, is an exquisite protected bay where visitors can lie back and soak up some sun.