Royal Brunei Flights and Routes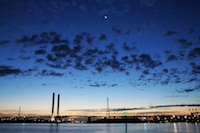 Royal Brunei Airlines is owned by the government of Brunei, services 21 destinations across the Middle East, Asia, Australasia and Europe
United Kingdom travellers hoping to bask in the Australian heat after a winter of blustering weather at home will be pleased with the travel news from Royal Brunei Airlines.
A new flight path will take passengers on a direct-non-stop flight from London Heathrow to Melbourne, Australia. RBA already offers flights to and from the cities of Perth and Brisbane. The new Melbourne connection brings the total number of weekly flights to Australia to fourteen.
The establishment of the new connection was due to the increase in demand from UK holiday goers for flights to additional Australian cities. Passengers may opt for the direct flight or choose the one-stop flight with a layover in Brunei. The airline is hoping to help increase the tourist trade in the Sultanate of Brunei with attractive holiday packages for European travellers that encourage spending time in Brunei.
Melbourne is a popular destination for UK holidaymakers and is the most populated area in the Australian state of Victoria. The city is often referred to as the cultural capital of Australia and is home to the Royal Botanic Gardens, the Werribee Open Range Zoo, the Old Melbourne Gaol and the Eureka SkyDeck 88.
Royal Brunei Airlines now flies to a total of 20 destinations in Australia, Europe, the Middle East, New Zealand, and Southeast Asia. It operates 10 aircraft and its base is at the Brunei International Airport in Berakas, just north of the capital city of Bandar Seri Begawan.