Air Malta Flights and Routes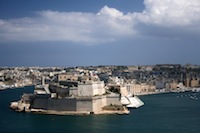 Air Malta has a fleet of 14 aircraft and fly to many destinations including Istanbul, Stockholm and Brussels
The Malta Tourism Authority and Air Malta have always shared a love of their island home and have worked tirelessly to ensure that tourists continue to flock to the beautiful island. This collaboration has even included coming to one of the most iconic department stores in the world to extol the virtues of Malta.
The island nation in the Mediterranean is one of the most densely populated countries in the world and is renowned for its tourist industry. The island offers a wide range of tourist activities from the fantastic climate to the fact that despite only being 300 square kilometres in area it boasts nine UNESCO World Heritage Sites. These nine sites include megalithic temples dating back to pre-history. Tourists also flock to the second island of Malta, that of Gozo to take advantage of some of the most interesting and beautiful diving sites in the world. Famous dive sites such as the Blue Hole, the Cathedral Cave and the Rozi wreck provide some amazing dives for divers of all abilities.
Visitors to the island will benefit from the widespread use of English, as it is actually one of the official languages of the island. The location of the island also means a warm climate all year round making for a popular destination even when Northern Europe is basking in winter weather.
For decades Air Malta and the Malta Tourism Authority have worked together to bring tourists to the island and each campaign focuses on the beauty and the wide range of activities that this popular Mediterranean island offers.