Amsterdam Schiphol (AMS) Airport Guide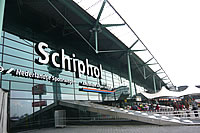 Amsterdam Schiphol Airport is located around nine miles south-west of Amsterdam, in the Haarlemmermeer area.
One of the world's busiest airports, Amsterdam Schiphol handles more than 47 million passengers annually and is served by airlines including Aer Lingus, KLM and Lufthansa.
At the recent ACI awards, held in Manchester, it scooped the ACI Europe best airport prize, in recognition of its efforts to reduce noise and cut carbon emissions.
Amsterdam Schiphol Airport Amenities
Passengers travelling through Amsterdam Schiphol Airport will find an excellent range of facilities on offer.
There are eateries to suit all tastes and budgets. Sit-down restaurants include the Brasserie, which offers a French a la carte menu, and Shirasagi Sushi Bar, which serves freshly prepared Japanese fish dishes.
Travellers will also find several child-friendly restaurants dotted throughout the airport, such as Vlaamse Frites, Panoramaterras and the Grand Cafe Plaza, which serves 'clown' pancakes and provides children with balloons and colouring books.
The airport has an excellent range of shops and those spending more than €20 can arrange to collect their purchases on the return-leg of their journey if they wish.
Stores based at the airport include H&M, Crocs and Esprit. There are also several duty free outlets.
Delayed passengers or those with a long wait between flights will find themselves well-catered for at Amsterdam Schiphol. Travellers can take a shower at the Hotel Mercure Schiphol 24 hours a day. The hotel also offers rooms for just a few hours, enabling passengers to freshen up while travelling.
In addition, the airport has a silence centre, which provides a quiet and peaceful place for travellers to pray or meditate.
Passengers looking to indulge in some pampering can enjoy a range of beauty treatments and therapies at the XpresSpa, which is located in Departure Lounge 2, after passport control.
Treatments on offer at the spa include manicures, pedicures, massages and reflexology. Express services are also available for those short on time and no appointment is necessary.
Meanwhile, those travelling with children can keep them entertained with a visit to the Kids' Forest, which is home to a range of play and climbing equipment, including real tree houses.
Terminals at Amsterdam Schiphol
Amsterdam Schiphol Airport features one terminal building.
Amsterdam Schiphol Transport Links
The quickest and easiest way to reach the city centre from Amsterdam Schiphol Airport is by train. The airport is home to its own station and services operate throughout the day and night.
Trains run directly to Amsterdam Central Station, with journey times lasting around 15 minutes.
Public buses are also available and many nearby hotels operate free shuttle services. Passengers can find out which hotels are served by visiting the Connexxion Schiphol Hotel Service desk in the arrivals hall.
Passengers who do not fancy the idea of lugging their suitcase on to the train can take a taxi.
Taxis are available round-the-clock and can be booked in advance via the airport's website.