Frankfurt (FRA) Airport Guide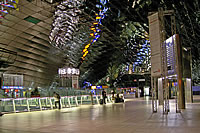 Frankfurt Airport is one of the busiest transport hubs in Europe and handles more than 50 million passengers annually.
The airport is located around 12 kilometres south-west of Frankfurt city centre and is served by airlines including United Airlines, KLM and Lufthansa.
It was recently announced that Frankfurt Airport will be one of the first airports in the world to house its own university campus.
The building will open between 2010 and 2011 and will act as a specialist research and knowledge centre for the Darmstadt Technical University, the University of Applied Sciences of Frankfurt, the Goethe University Frankfurt and the European Business School (Oestrich-Winkel).
Frankfurt Airport Amenities
Frankfurt Airport is home to more than 220 shops, so travellers should have no trouble snapping up any gifts and last-minute holiday essentials.
Commenting last year on the selection of stores at the airport, fashion bible Elle noted: "Whether you've forgotten that little black dress while packing in a hurry for a business trip or have left the beach bag at home when leaving on a holiday, you'll find replacements for everything here, from Alaia to Zegna. And even if you haven't forgotten anything, the pashmina comforter fits in any carry-on bag and is the cosiest travel companion you could wish for on a long flight."
Stores at the airport include Hermes Paris, Fotec, Hugo Boss, Marc O'Polo and Bree, which stocks a colourful selection of German-made leather products such as belts and purses.
Passengers looking to unwind before their flight can head to the Be Relax spa for some pampering. Treatments on offer include massages, waxing, manicures and pedicures. There is also an oxygen bar for those in need of a serious skin boost.
In addition, the airport is also home to a full-service hair salon. Essanelle is located in Terminal 1, Area C.
When it comes to dining, passengers are equally well catered for, with everything from sushi to hot dogs on offer.
Restaurants include Ciao Italia, Parisian bistro Kaffer's and Mexican eatery Manzana. Those looking for a stylish place to dine can head to Himmel and Erde in Terminal 1, which offers international cuisine in stylish surroundings.
Like most German airports, Frankfurt is a business traveller's dream. The airport's state-of-the-art conference centre is open from Monday to Friday and boasts 36 meeting rooms, capable of accommodating anything from two to 180 people.
Terminals at Frankfurt
The airport is home to two terminals. The buildings are linked by a free Sky Line shuttle service, with a typical journey lasting around two minutes.
Frankfurt Transport Links
Passengers travelling to and from Frankfurt Airport have several transport options to choose from.
Frankfurt Airport railway station is located in Terminal 1, with trains running regularly to the city centre and surrounding areas.
Regular bus connections are also available, with stops located outside both terminal buildings.
Several nearby hotels operate their own free shuttle services and passengers will find telephones in the arrivals area with direct lines to participating hotels.
Taxis operate around the clock from both terminals and travellers can expect to pay around &euros;20 for a trip to or from central Frankfurt.
Rental cars are also available, with firms including Avis, Budget, Europcar and Hertz operating from the airport.
Meanwhile, travellers making their onward journey from Frankfurt Hahn Airport can travel by taxi or by bus via the city centre.