San Francisco International (SFO) Airport Guide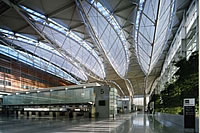 Situated 22 kilometres south of the city, San Francisco International Airport is one of the 20 busiest in the world and is home to four terminal buildings.
Airlines currently serving the airport include Delta, Aer Lingus, Air France and Lufthansa.
San Francisco International Airport Amenities
Passengers travelling through San Francisco International Airport will find a good range of facilities on offer, including banking services, currency exchange desks, telephones with data ports and wireless internet access.
The airport has dozens of clothing boutiques and gift shops, with stores including Gucci, Burberry, Sunglass Hut, Erwin Pear and - of course - Tie Rack.
Those looking for last-minute souvenirs for forgotten relatives can snap up some perennial favourites such as tea towels and magnets in the I Love San Francisco store and Embarcadero Treats.
There are also several duty-free stores, including DFS Duty Free Galleria, DFS Duty Free Satellite and DFS Wine and Cigar.
As with most American airports, there is no shortage of restaurants and travellers of all tastes are well catered for.
Naturally, there are more burger bars than you can shake a stick at, which include TGI Friday's, The Burger Joint and Firewood Grill.
Other restaurants at the airport include Emporio Rulli, the Mission Bar and Grill, Sankaku and the Legends of San Francisco.
The airport has a staggering range of business and leisure facilities. There can't be many other airports where you can rent a DVD, have some reflexology and get your shoes shined.
And, if all that isn't enough, perhaps you could visit the airport aquarium and have a look at the fish before your flight. Alternatively you could brush up on your aviation knowledge at the airport museum, or perhaps enjoy some quiet time in the Berman Reflection Room. We know what you're thinking - why leave the airport? You could holiday here.
There are also showers, nurseries, a health spa, hair salon and interpreting service desk.
San Francisco International Airport is also home to a business centre and travellers can access rental mobile phones, fully equipped workstations and fax facilities.
Terminals at San Francisco International
There are four terminals at San Francisco International Airport, all of which are linked by a free 24-hour AirTrain.
San Francisco International Transport Links
Passengers can travel to the city centre by rail, using the Bay Area Rapid Transit service, which operates regularly to San Francisco, East Bay and San Mateo County.
Public buses also run from outside the terminal buildings and passengers can get timetable information from the desks located in the airport arrivals hall.
Door-to-door vans can also be arranged for large groups and taxis operate outside most terminals.
Those feeling flush can even start their holiday off in style by taking a relaxing limousine ride to their destination.