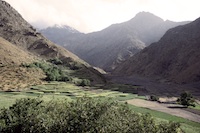 Book cheap flights to Morocco by selecting an airport destination in Morocco below. Compare flights to Morocco from over a hundred airlines worldwide and book online with us today.
The Kingdom of Morocco is a constitutional monarchy, sitting on the north coast of Africa, with a wide, rambling coastline that stretches from the wild Atlantic Ocean to the sapphire-blue Mediterranean Sea. It is home to over 30 million people, and shares borders with Spain to the north (separated by the Gibraltar Strait), Algeria to the east and south, and Western Sahara to the west, although the latter is largely administered by Morocco, giving it a de facto border with Mauritania instead.
This sizzling hot country relies heavily on imports and exports, with phosphate rock mining accounting for a large portion of its main industry, as well as the export of much of the exquisite arts, crafts and textiles for which Morocco is famous.
The main international airport – Mohammed V International Airport – is in Morocco's largest city, Casablanca: a contemporary, westernised metropolis, in comparison to most of the country's other regions. The capital city, Rabat, which is also the country's third-largest city, is certainly worth a visit, with graceful boulevards and a relaxed atmosphere. However, if you are visiting Morocco to indulge in the mystic charm and exoticism this unique kingdom has to offer, then you will want to extend your horizons beyond these major cities. Try Marrakesh, Tangier, Fez; try the colossal Atlas Mountains; try the quirky, traditional Berber villages; try the vast dunes of the arid and beautiful Sahara desert.
Think camels, horses and carts, snake charmers, old colonial buildings, vibrant, technicoloured streets, beautiful textiles, and locals who are desperate to make you feel at home. This is Morocco: the experience of a lifetime.