Fez Cheapest Fares
The lowest fare found to Fez (FEZ) was £287 with Royal Air Maroc. The fares shown here are the lowest flight prices to Fez obtained in actual searches by Just The Flight customers. To search and book flights to Fez in 2022 and 2023, please enter your requirements and click the search button above.
Fes Festival of World Sacred Music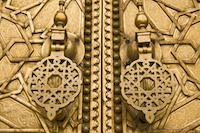 The Fes Festival of World Sacred Music is based in the third largest city in Morocco, and it is well known for being one of the world's great musical events. It has grown in both popularity and in meaning during the years of its existence. It is the main festival of the Spirit of Fes Foundation. The primary objective of the festival is to inspire peace and harmony in all attendees and throughout the world.
The festival takes place during one week in the month of June. A different theme is represented every year. The festival includes sacred music from all around the world. Examples of the countries that are performing at the festival are Ethiopia, Afghanistan, North India, Brazil, Morocco, and Senegal. The event gives musicians, artists, and visitors from different faiths on either side of the Mediterranean the chance to mingle and enjoy the music in Morocco's historic holy city. There are a variety of rhythms and songs on offer from many world cultures. Many of these were produced years ago, making this a unique opportunity for attendees to experience these reproductions.
The festival has been described by visitors as having a unique magic attached to it that goes beyond the limits of other great festival experiences. This celebration is immensely popular because of its historical location and because of the surprising and inspiring performances that are on offer each year.