Oujda Cheapest Fares
To search and book flights to Oujda in 2020 and 2021, please enter your requirements and click the search button above.
Mysterious, Beguiling, Mesmerising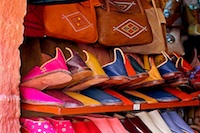 Oujda is a traditional Moroccan town which is close to Algeria's border and under twenty kilometres to the Mediterranean coast. With roots going back to Roman times, its ancient centre has winding alleys with numerous themed markets (souks) including a leather market and a dedicated jewellery market. Visitors to this destination can spend many happy hours wandering around the streets but it is the music that most of them come to hear. In addition to being Eastern Morocco's leading city, Oudja is the spiritual home of Gharnati music, a type of music that is unique to this region. This haunting traditional music's origins stretch back centuries and is celebrated every year in the International Festival of Gharnati Music, which takes place every June in the centre of the town.
Gharnati has its roots in Oujda precisely because of the city's location - the music is a fascinating blend of Andalucian, Moroccan and Algerian traditional styles. In fact, the name itself - Gharnati - comes from the Arabic name for the Andalusian city of Granada in Spain. Gharnati has largely died out on that side of the Mediterranean but it is a highly respected traditional Andalusian music in both Morocco and Algeria. In Algeria, Rabat is the main centre for Gharnati, but there is no better destination for Gharnati than Oujda.
The music is a haunting, atonal lament with a voice singing over mandolin, banjo and piano in modern interpretations. Traditionally, the instruments used include kvîtra, oud and kamenjah which combine to produce a truly inspiring sound.