Rabat Cheapest Fares
To search and book flights to Rabat in 2022 and 2023, please enter your requirements and click the search button above.
A Quiet Beauty in Morocco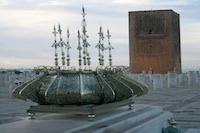 Rabat is a sedate city that has elegant, tree-lined boulevards and imposing administrative buildings. It is a tolerant and relaxed destination by Moroccan standards, exuding a pleasant, leisurely air. The capital city of Morocco, Rabat means 'Fortified Place' and it is located on the Atlantic Ocean at the mouth of the river Bou Regreg.
Less ostentatious than other Moroccan cities, modern Rabat is clean and accessible. It comprises old Muslim districts as well as beautiful remains from all periods of Moroccan history.
Important places to visit include The Kasbah des Oudaias in the oldest part of the city, which has wonderful Andalusian Gardens and also contains the Musée des Oudaia with its national jewellery museum – a fascinating collection of prehistoric, Roman and Islamic jewellery, all of which has been found in Morocco.
Le Tour Hassan towers above the river and is Rabat's most famous landmark. Abandoned during construction at 44 metres high, the beautifully designed and intricately carved building dominates the remains of its companion mosque. St Agatha's Crypt and Catacombs, with their series of exceptional frescoes dating from the 12th to the 15th centuries, are interesting to see and the Chellah is a necropolis that is one of the oldest constructions in Morocco – forsaken, decaying and overgrown, and an evocative sight.
As with many destinations, Rabat provides contemporary shopping treats and the Medina offers plenty of bargains. There are wonderful parks and cafés; a golf course; an annual jazz festival and another of world music; and vibrant nightlife in the local clubs.