Ouarzazate – Morocco's Hollywood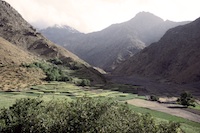 At an elevation of 1,160 metres, (3,810 feet), on a bare plateau within view of the High Atlas Mountains of Morocco, is Ouarzazate. To the south lies the Sahara Desert, and because of its situation, Ouarzazate has become a jumping-off point for destinations like the Draa Valley, the Unesco World Heritage Site Casbah town of Ait Benhaddou, and Zagora, an oasis where camel trains set off for Timbuktu.
There is a range of hotel accommodation available, and the area around Mohammad V is easy to walk. Transport takes the form of two types of taxi – petits for travel within Ouarzazate itself, or grands for excursions out of town.
Travellers can also spend a memorable night out in the Sahara Desert at places like M'Hamid, either through an agency or as a self-drive option.
Clear natural light, Berber architecture, good climate and remarkable scenery have made Ouarzazate a popular film location. Blockbusters such as Gladiator, Lawrence of Arabia, The Living Daylights and Kundun were all made in the surrounding area, and at a local film studio that offers daily tours. A second film studio along the same road specialises in films for TV.
Ourzazarte is reached by bus via Tizi n´Tichka pass – the highest mountain pass in North Africa at an altitude of 7,415 feet – or by air. There are no direct flights from the UK. However, a number of connecting flights, via France or internally in Morocco, are available. There are also usually two flights per day to this destination from Casablanca.