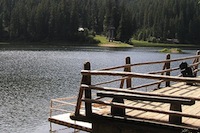 Book cheap flights to Ukraine by selecting an airport destination in Ukraine below. Compare flights to Ukraine from over a hundred airlines worldwide and book online with us today.
The country of Ukraine is situated in Eastern Europe and is bordered by many countries including Russia, Belarus, Poland, Slovakia, Hungary and Romania.
The capital city of the Ukraine is Kiev and has many other large cities including Kharkiv, Dnipropetrovsk, Donets'k and Odessa.
The name Ukraine means 'borderland' and is a patchwork nation that draws on many historical influences. The main places to visit in Ukraine are Kiev, Chernihiv, Chernivtsi, Dnipropetrovsk and Donetsk. There are many major airports in Ukraine with Kyiv (Kiev) International Airport being the main one.
Kiev is the largest city of Ukraine with over 2.7 million inhabitants and is situated north of central Ukraine. A city that is one of the oldest in the East of Europe and dates back to the 5th century. Whilst in Kiev, there are many sites to see, these include Chernobyl' Museum, Khreschatyk Streey, Kiev Pechersk Lavra and Museum of Folk Architecture and Rural Life.
Like Kiev, Chernihiv is situated north of central Ukraine and is one of the ancient and most interesting town in the country. The main attraction to be seen here is the Contemporary Chernihiv. Chernivtsi is a city that is based in Western Ukraine; although small there are still many attractions to be seen here including Main Square, The German House, Theatre Square and the Old Synagogue.
The main industries in Ukraine include shipbuilding, heavy engineering as well as motor industries.