Kharkov Cheapest Fares
The lowest fare found to Kharkov (HRK) was £149 with Ukraine Airlines. The fares shown here are the lowest flight prices to Kharkov obtained in actual searches by Just The Flight customers. To search and book flights to Kharkov in 2019 and 2020, please enter your requirements and click the search button above.
European Universities Badminton Championship Kharkov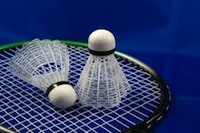 The Ukraine's second largest city, Kharkov, hosts the European Universities Badminton Championship in June. The fierce competition pits the best university players from around Europe against each other in a multi-day championship that includes both individual and team events.
The Sport's Student Union of Ukraine helps organise the match. Teams from across Europe register months in advance for their chance to be the champions of university badminton.
The programme spans multiple days, with the first couple of days being devoted to training referees and meeting with team managers. The first three rounds are team round robin tournaments. The following day, qualifying teams compete in quarterfinal, semi-final and then final rounds to determine the best university team in Europe. There are also separate rounds for individual competitors. Individual competition spans three days, culminating again in a final round to determine the very best university badminton player in Europe.
Other excursions are also built in to the competition. There is an afternoon devoted to exploring the historical and beautiful city of Kharkov. The city has a population of more than 1.5 million people and is a key transportation hub in the Ukraine. Sports, including football, have always been one of the city's great loves. Kharkov has 13 universities of its own and has developed into a major industrial centre for the Ukraine. Kharkov University itself is one of the oldest in Eastern Europe.