Odessa Jazz Carnival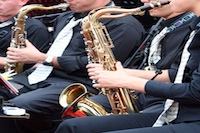 Get into the rhythm of an international music exhibition by visiting the Odessa Jazz Carnival. Taking place in Odessa every autumn since 2001, the festival brings the city an explosion of musical improvisations from across the globe.
Since its inception, the carnival has featured live performances from some of the best jazz musicians from countries such as russia, Lithuania, Azerbaijan, Latvia , America, Cuba, Bulgaria and Israel. The diversity of the event's participants has truly earned the Odessa Jazz Carnival its international status, and each year, the festival continues to expand the number of nationalities involved in its production.
The event has showcased numerous combinations from mixes of western and oriental traditions to the less familiar pairings of folk tunes and eastern melodies. The festival is unique in the cultural calendar of Odessa and brings a great deal of excitement to the city each year as musicians from across the world gather to perform their art. Musicians of all disciplines, including guitarists, saxophonists, vocalists and big bands, are present at the event.
The jazz carnival is a popular event among residents and travellers, and regularly draws in crowds of thousands. At this time, various contests and competitions are planned, as well as the inclusion of nighttime music sessions.
Lovers of jazz and music connoisseurs will not want to miss this exciting festival, and even those without much knowledge of the genre will become absorbed in the invigorating atmosphere that descends upon the destination during the Odessa Jazz Carnival.