Simferopol Cheapest Fares
To search and book flights to Simferopol in 2022 and 2023, please enter your requirements and click the search button above.
Simferopol rewards tourists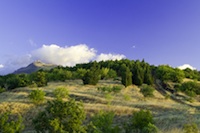 Simferopol, a major city in Ukraine's scenic Crimea region, has a unique way of rewarding tourists and ensuring that millions more visit the area each year. The city's largest tourism companies, including regional airlines and hotels, join forces to reward every millionth traveller who visits the area with flight tickets and a stay at one of Simferopol's most ritziest hotels.
In most years, the millionth tourist arrives in mid-June and in 2011, the Dedodov family, from Moscow, proved to be the lucky winners. They were handed free flights with Avianova, a major Russian carrier, accommodation for two at Yalta's glamorous, five star Villa Elena hotel and tickets to visit the destination's Red Caves. The 16km cave is the longest in Ukraine and the country's deepest. The Soldier's Mine, which is 519m deep, is also located in the area. The prize package was presented by Simferopol International Airport, which offers direct connections to Kiev, several times a day, as well as flights to St. Petersburg, Moscow, Istanbul and Riga.
One of the most popular tourist attractions in the region is Scythian Neapolis, a major archaeological find, which provides a glimpse of life and culture dating back more than 2,000 years. The Red Caves are situated approximately 17km from the city centre and it is advisable to either register with a tour company or rent a car in order to visit. There is also bus service to the caves from Simferopol train station, which stops around 3km from the cave's entrance.