Getting the best from airline food

When most people think of economy class airline meals, it's usually not in the most positive of ways. After all, what could be more unappetising than sitting down to a dinner of cardboard trays filled with food that tastes distinctly of, well, cardboard? However, look beyond the stereotype and you'll find that airline food is not all bad - in fact, some of it could even be better than anything you'll find at your nearest gourmet restaurant.
Airline food through the ages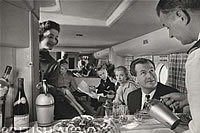 The birth of air travel in the 1920s brought meals significantly different to those served today. Because travellers were more used to the comforts of journeying by sea, inflight meals tended to resemble those served onboard ships - food was more often than not cooked on the plane and dished up in several courses. However, as you might expect, officials found this difficult to keep up and moved towards the pre-cooked meals more common today.

During the 1950s and 1960s, when flying was still very much a novelty to many, airline meals were seen as new and exciting - and even, as the San Francisco Chronicle puts it, "elegant". However, as more inflight food was dished up in cardboard and polystyrene trays to passengers completely ignorant of what they actually contained, airline meals got a reputation as something to dread rather than look forward to - take a look at some of the pictures on Airlinemeals.net for some interesting examples.

Despite this, progress has been made in the last few decades, with airlines ploughing money into keeping their first and business class passengers particularly happy with their food. Economy class food has, in the main, also improved along with this - although this has traditionally been a bit harder to detect. The typical inflight meal now seems to consist of a tray containing a main course (usually rice or pasta in a sauce, depending on where the airline is flying from), a bread roll, butter, fresh fruit and a sugary dessert.

One air passenger confirms that general inflight food quality has improved significantly in recent times, commenting: "I actually really like airline food. I think that throughout my years of travelling the quality has definitely increased. In fact, my girlfriend is generally more excited about the airline food than the holiday itself!"
So where are these new improved meals?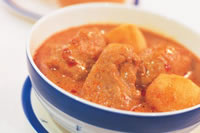 The quality of inflight meals tends to vary widely between airlines and different cabin classes. However, some carriers have received more plaudits than most for their culinary skills. One such airline is Singapore Airlines, which has been generally praised for serving up food that both looks and tastes good. Its economy class menu includes an array of what it calls World Gourmet Cuisine and a special snack service for passengers on flights lasting longer than ten hours.

As well as noting the most renowned airlines in terms of food, it's also worth taking into account where you're flying from - as the point of departure may be home to catering firms that use plenty of local produce and adopt a different approach to caterers elsewhere.

One traveller who flew back to the UK from a stint around south-east Asia and Australia earlier this year particularly recommends the meals onboard Qantas flights from Thailand, especially the Thai green curry and salad. "I've found it's always nice coming back through Thailand or Singapore: fresher, nicer veg and actual taste - delicious!" she says.

Other recommendations include a chicken tikka masala experienced on a British Airways service to Denver, Lufthansa for offering "a damn fine sandwich" and Qatar Airways for providing a more than ample amount of sustenance for its passengers. It also appears that when it comes to drink, getting an extra drop or two for free isn't always out of the question - British Airways in particular seems to be especially name-checked for being generous with their beers and wines.

You might also find that what you get differs depending on whether you're on a short or long-haul flight. Phil Shepherd of bmi had this to say about the airline's long-haul offerings: "Obviously the menu still does depend on which class you are travelling in. The menus are developing constantly. On our long-haul routes in the business cabin we do actually have a chef on board who will cook to order. When we started doing this we were the only airline [to offer an onboard chef]."

He went on to add: "The food is very much changed [for short-haul flights]. We have gone much more for the sandwich option. We do hot sandwiches and ciabattas - and the response to that has been very good. When you are only flying for an hour or two that is the kind of thing that people want - rather than a full meal."
The health factor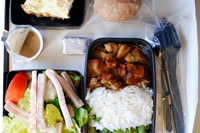 One concern over airline food is whether it is actually any good for you. Inflight meals have often been the butt of many jokes over the years for their perceived lack of nutritional value, but more and more airlines are in fact striving to make their meals more attractive by packing as much goodness as possible into them.

"There are obviously trends within the catering industry and like any catering outlet our chefs are professionals and they will take [nutritional content] into account," says Mr Shepherd. It appears that this is happening primarily as a result of consumer and media pressure - Anna Denny, a nutrition scientist for the British Nutrition Foundation, states that this is "quite rightly so".
Celebrities in the sky
As a direct result of carriers' increased efforts to win over customers with tempting dishes, all manner of innovations have been born over the last few years. One major trend to have emerged in past two decades is the hiring of celebrity chefs to inspire and create spectacular menus for airlines - often amid a huge amount of publicity. Just a few recent examples include Gordon Ramsay for Singapore Airlines and Juan Amador for Lufthansa.

It appears that passengers are lapping all this up too - a recent survey conducted by Delta Air Lines found that almost half of all US air travellers would be willing to shell out extra on dishes concocted by a celebrity chef. It is perhaps no surprise that Delta itself has hired top chef Michelle Bernstein to treat its business class customers to some extra special meals.

"Today's consumers are very familiar with celebrity chefs and are very likely to react favourably to an inflight offering created by a personality," remarks Joan Vincenz, managing director of product marketing for Delta. "Our survey findings support the fact that renowned chefs are extraordinarily credible among travelling consumers."
To pay or not to pay?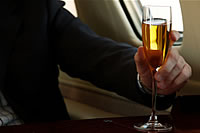 A number of airlines - particularly on domestic US and charter flights - now charge for inflight meals. Prices can vary from carrier to carrier - as can the food available for purchase. As with services offering free meals, shorter flights tend to sell cold items such as sandwiches while long-haul flights are more likely to offer full course options. But is it really worth paying for your food when you could just as easily bring something from home?

In most cases, it would appear that there isn't much difference in terms of quality between the food you get for free and the meals you have to pay for. Many airlines operating meal-free flights do so for security or cost-cutting reasons, rather than to serve up top cuisine to those who care to pay for it.

Indeed, if you're willing to pay extra on top of your airfare to eat cooked food onboard, you might as well spend a bit more on an air ticket with a carrier that offers free meals, such as British Airways, according to one expert.

"The whole essence of BA is that it is a class product and worth paying good money for. Meals are a big part of that and it makes much in its advertising of its 'free' food and drink," Simon Calder, travel editor of the Independent, commented to the BBC.
The great food lottery
In conclusion, it seems that getting a decent economy class meal can be a bit of a hit-and-miss affair. On the one hand, if you do your research beforehand you'll be able to pick an airline with a reputation for good food. However, in most cases it is very much dependent on the individual carrier's policy in terms of how it goes about creating and producing the meals they serve - and on the country you are flying from.

Despite this, there can be no doubt that airline food is slowly but surely improving. In the end, all carriers are out to get more passengers on their planes. And if that means wowing customers with dishes hand-picked by a celebrity chef or coming up with ever more sophisticated concoctions with names you might expect in a top-class restaurant, then that's what they will do - and this can only be to the benefit of the traveller.