Eat your way to a perfect holiday

One of the advantages of going on holiday to a far-flung destination is the chance to sample a range of different cultures, people and cuisine. The latter can be the most exciting for those who love their food and are always looking to try new things - and visiting some of the world's best destinations for all things edible could make for a dream holiday.
Indulge your passions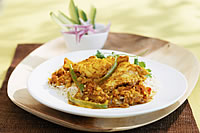 The best way to begin deciding on where to go for a food-centred holiday is to simply consider the kinds of cuisine you most love. So curry lovers might want to check out the spicy dishes of southern India and Sri Lanka, while those with a penchant for the Oriental may well decide to head to the likes of China and Thailand to try a wider range of authentic dishes than might be found in a British takeaway.

"[The cuisine of these countries has] transported very well over here. People are very interested to find out what [the food] is like in these destinations," remarks Frances Tuke of the Association of British Travel Agents.

Before you travel to the destination of the choice, it's worth doing some research into the best places to eat and drink, as well as any food-related events that might take place while you're there. Then all you have to do is turn up, tuck in and bliss out.

"If you are just literally wanting to go round and taste what's on offer, good guide books are often the place to start as there have been people there before you to make those recommendations. That would really get [you] the top end [local cuisine]," Ms Tuke adds.
Traditional favourites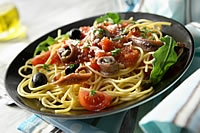 Europe is home to a fantastic array of cooking styles and dishes that can widely differ from country to country and from region to region.

Everyone loves to name drop France when it comes to continental cuisine - and with good reason. Paris is perfect if you want to sample a little of everything that can be found in France's various regions, such as quiche Lorraine, Champagne and pate.

Of course, Italy is another classic food destination - not just for the pasta and pizzas of Lazio and Campania, but also for its fine wines, delicious snacks like panini and brioche, smooth coffee and French and Austrian-influenced northern cuisine.

"When people are going for city breaks [food is] actually part and parcel of what they want, especially couples; they are looking for good gourmet experiences [and] we are finding that is increasingly the case," Ms Tuke states.

"There is still that element of people who are not very adventurous, but increasingly there are those who want to go for the authentic travel experience - and that includes proper local food."

A survey carried out by the World Travel Market (WTM) last year revealed that the range of destinations travellers love to visit just for their food may be broader than many of us think. Vietnam, Sicily and the Caribbean are among those locations we do not tend to hear as much about when it comes to food as the likes of Italy and France, but they are becoming increasingly popular among Britons, the poll suggested.
Out and about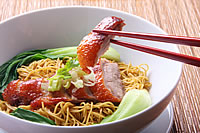 Food festivals are a great way of sampling a country's dishes without dashing from town to town. Singapore hosts a massive event every year that showcases the best of the city-state's cuisine and is perhaps one of the biggest of its kind in the world.

Every July, Singapore lays on a plethora of events dedicated to educating visitors of the wide variety of dishes that locals enjoy. Just a few of this year's Singapore Food Festival highlights include the opening celebration at the Lau Pa Sat market between July 4th and 6th, with more than 40 stallholders offering a range of Singaporean cuisine.

Individual events focusing on aspects of all things edible such as seafood, barbecues, wines and more. Other elements of the festival include cookery classes, demonstrations and contests.

"Singaporeans are passionate about food and eating," Tee Yen Chew of the Singapore Tourism Board told the WTM. "In almost every corner of the island, you will find an endless variety of food served hot or cold at any hour of the day or night."

On the other side of the world, North America hosts a number of food and drink festivals every year. According to Coastal Living magazine, the best of these combine seafood and wine, with its top ten including the Stone Crab, Seafood and Wine Festival in Florida, the Sushi and Sake Festival in California, the Clayoquot Oyster Festival in British Columbia and Harvest on the Harbour in Portland, Maine.

Meanwhile, Toronto hosts the Taste of the Danforth festival every year, which offers up a mouthwatering range of Greek, Thai, Indian and Cuban cuisine, among others. Elsewhere, Tasting Australia in Adelaide is another proud purveyor of some of the country's most popular dishes, while the Oktoberfest in Munich is perhaps the most famous beer festival in the world.

Other popular festivals? "We've recently seen the Taste of Spain in London which was incredibly successful; Spain has really been aiming to promote a gourmet experience there. It's been incredibly successful and has really captured people's imaginations," ABTA's Ms Tuke says.

Commenting on the overall experience of eating out while abroad, she adds: "Meal times are an ideal time to relax, have good conversation and you are ideally with people you want to be with on holiday - enjoying good food and wine to go with that just cements that holiday experience."