All about premium economy

It seems that airlines are adding ever more cabin classes to their planes every day. The choice is now slightly more complex than whether to go for the cheap or more expensive seat - which might be bewildering at first, but when it comes to the modestly priced yet roomy new premium economy class cabins that are being rolled out around the world, you might just find that it's simpler than you thought.
What is premium economy?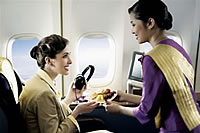 Premium Economy bridges the gap between the standard economy class and business class cabins by offering some of the comforts of a premium seat for a reasonable price. Different airlines call their Premium Economy offerings by varying names, but they all boil down to the same concept - a more luxurious journey for a less than luxurious cost.

So what are the actual benefits of flying premium economy? Perhaps the most important advantage is the joy of having a bigger seat. Depending on the airline, you can stretch out in up to seven inches of extra space compared with a normal economy class seat.

A quick look at a comparison chart of premium economy seats on different airlines at Seatguru.com reveals that Virgin Atlantic comes out on top for offering a seat with a width of 21 inches, while many others' seats tend to come in at the 18-inch mark.

However, Thai Airways beats off the competition with a seat pitch - the distance between the separate rows of seats in the cabin - of 42 inches, offering a generous amount of legroom which will be particularly handy for those who are taller than average.

If space isn't that vital an issue for you, you will need to take a look at the other benefits on offer in Premium Economy cabins - and again, what you get very much depends on who you choose to fly with.
Beyond the space odyssey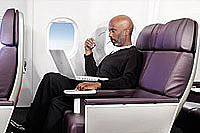 As mentioned previously, Virgin Atlantic's premium economy cabin is particularly attractive - so much so that it won an award for having the best Premium Economy service at the annual Business Traveller awards. Virgin customers can benefit from a pre-flight drink, meals served in chinaware, dedicated check-in, a cabin-exclusive crew, priority baggage reclaim and more.

"Lots of different passengers use the service - from passengers on leisure looking for more space, to small and medium-sized companies for their staff travelling on business," says Anna Knowles of Virgin Atlantic.

"Premium economy is a hugely growing market - it grew by over 50 per cent between 2000 and 2005," she adds. "The attraction of our new premium economy class is not only more space with the wider leather seat, but the service that accompanies it like priority check-in and priority luggage handling, along with aspects like separate meal choices."

Meanwhile, the World Traveller Plus cabin from British Airways is essentially a premium economy offering. Passengers opting for these seats can enjoy a free newspaper, free drinks, a priority meal service, and individual in-seat power supplies and telephones.

And elsewhere, bmi has separated its Premium Economy services into those designed specifically for short and long-haul flights. The short-haul cabin offers perks such as priority seating, an inflight menu and priority baggage delivery, while long-haul passengers can enjoy a 38-inch seat pitch, dedicated cabin staff, fine cuisine and free drinks and magazines.

It doesn't end there. Across the globe, Air New Zealand shows off its attention to detail by offering a special range of luxury skincare products in the bathrooms of its premium economy cabins, while future customers of the forthcoming premium economy offering from Qantas, due in February 2008, will be able to watch films and programmes via an in-arm entertainment system while enjoying meals designed by top Australian chef Neil Perry.
Is premium economy a must-have?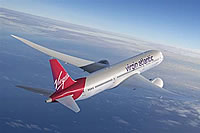 Many travellers faced with choosing from an economy, premium economy, business class or first class seat when booking a flight are likely to question whether they really need to pay more for a seat that offers a few extra perks.

Of course, it all depends on that passenger's individual preferences, but it might be worth bearing in mind that having a few extra inches of space and extra attention from cabin staff can make all the difference on particularly long journeys.

And even on shorter journeys you may well find that the added comfort puts you in a better frame of mind for dealing with the various security checks and procedures that you must go through upon landing. There are few - if any - downsides to paying a little more for a lot more. As one traveller who recently took a premium economy transatlantic flight with Virgin Atlantic says, the price "is well worth what you get in return".

If you're worried about the cost, it might also be handy to remember that if you are prepared to pay full price for an economy class ticket, some airlines may reward you by bumping you up to premium economy. Of course, this is not by any means guaranteed, but some carriers may also offer the option to buy a discount upgrade before boarding if the Premium Economy cabin is nowhere near full.

It's also worth noting that airlines are continually upgrading their cabin offerings across all classes. After all, they are businesses out to attract as many passengers as possible, which can be turned to the benefit of the traveller as carriers roll out ever more competitive - and luxurious - offerings. Virgin Atlantic's recent premium economy upgrade appears to have done the trick, if its awards and recommendations are anything to go by, and with ever more airlines breaking into the Premium Economy market to capture their share of passengers, traveller choice is now better than ever before.