Thai Airways Flights and Routes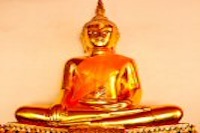 Thai Airways serves more Asian destinations then any other airline, over all it serves 35 countries over 4 continents
Thai Airways is doing all it can to maintain and grow its market share. The Thailand based carrier has increased the size of its fleet and launched a number of initiatives to help make it more competitive.
Upgrading its fleet through aircraft renewal and renovation is seen as a key strategy for Thai Airways, which aims to maintain its reputation as a premium airline. The reasons behind these moves have to do with intensified competition from low-cost, no-frills airlines, along with regional operators that are offering business class services.
Piyasvasti Amranand, President of Thai Airways, explained the strategy by saying, "On routes where we have a good product, we were able to increase passenger traffic". New aircraft, which are on order from Boeing, will operate in conjunction with the existing fleet on such popular routes as Bangkok to Paris. On routes where older aircraft have been operating, the airline was found to be losing out to its competitors, so the plan is to move ahead as quickly as possible with retrofits and new airliners.
Thai Airways expects its fleet to grow from 85 aircraft to over 100 in the next five years and this marks the first time in five years that the fleet will have grown.
The airline also has plans to launch a regional carrier, in addition to Thai Tiger, which is a low-cost joint venture with Tiger Airways. The most rapidly growing section of the market in the region has been taken by low-cost airlines and Thai Airways management has decided to branch out into this area.
Thai Airways is a member of Star Alliance