Just the Business

Business class isn't just for suits - travellers can enjoy the luxury of business class, without worrying about the meeting on the other side. Upgrade to the upper side of life and start your holiday as you mean to go on.
Sit back and relax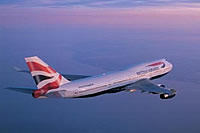 Although it comes under different names with different airlines, business class always offers more room and extra treats to ensure that you arrive at your destination raring to go. For example, British Airways Club Europe flights offer a range of free food and drink - including special children's meals, and a large, luxurious leather chair. Families may find the ability to pre-book seats particularly useful, to avoid stress and tantrums at the airport.

Business also doesn't have to equate to working. There may be power points scattered around and people furiously tapping away at laptops, but there's nothing to stop the typical holidaymaker taking advantage of the increased space and staff attention attained in business class. You can always furiously tap away at a laptop - but make sure it's an intensive game of Solitaire and not an urgent report.
Have a proper snooze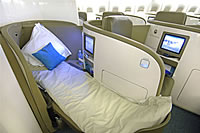 If going on a long-haul journey then some airlines, such as Virgin Atlantic and Emirates, offer seats which flip into fully flat beds - a phenomenon which has won the approval of the Sleep Council. Speaking on its behalf, Jessica Alexander explained: "For those passengers lucky enough to take advantage of the new flat beds on planes, the ability to adopt a more comfortable sleeping position must improve the likelihood of more refreshing rest."

Virgin's upper class service takes comfort to another level, as each bed is in its own cubicle, divided by walls, with a guest seat in each "suite" to entertain a guest while you lie in bed and watch TV.
Let me entertain you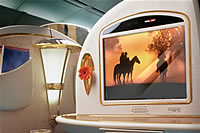 Business class also offers a more comfortable chance to enjoy the range of in-flight entertainment on board. Qantas offers video and audio on demand, with business class passengers often offered double the range of films compared to their economy co-passengers on many airlines.

Emirates is one of the highest ranked for its inflight entertainment services, with access to over 600 channels and the chance to phone, SMS or email friends and family from your seat. For a more factual way to pass the time, their system also offers constant flight progress reports, the view from external cameras and headlines from BBC News.
It does what it says on the tin...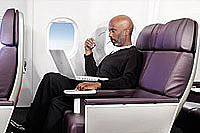 However, if you are on a business trip and hoping to make the most of your time away then, of course, business class can cater for your needs. Perhaps the greatest advantage is that travelling with children, while trying to work, can be easier with more staff on hand to keep a watchful eye and more chance of them snoozing more and fidgeting less on the bigger seats. Meanwhile, you can plug in and work away - without wasting any precious time, then glide into your meeting fresh as a well-rested daisy.
Value for money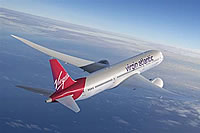 Although the prices of business class flights might deter the average traveller, there are a few things to consider. The first is to keep an eye out for bargains, as being flexible with departure dates means you could take to the skies in upper class for less than £300 for European destinations. It is also worth bearing in mind that being treated like royalty can save you money in other areas, as there may be chauffeurs provided to take you from your house, to your hotel at your destination - a feature of Virgin Atlantic upper class services. There's also the provision of power points, some Wi-Fi and - of course - that delicious free food to keep the rumbles at bay.

Consumers should also never forget that time is money - and travelling in comfort can save hours at your destination, with no need for catch-up and resting when you get a proper night's sleep in the flying hotel of business class.
Where to go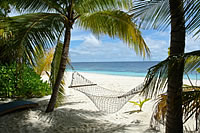 So, now that you've decided to take to the skies in style, where should you head to? Business class can make short-haul flights a dream but if you really want to start as you mean to go on, it may be worth considering a higher class of holiday. Luxury Travel Magazine, which specialises in all things decadent, recently highlighted the Caribbean as a top destination for families looking for that something extra. The Editor of the magazine, Alyson Cook, explained that the area was particularly child-friendly and provided "large spend holidays [where] the whole family goes together. Quite often grandparents are included and usually the nanny".

However, shorter trips need be no less relaxing with the option to spread your legs in a comfier seat - remembering the vital detail that the flight is an important part of your holiday and should be treated as such.

The Association of Independent Tour Operators (AITO) recently commented on the renewed interest in New York as a short break destination, thanks to the release of the Sex and the City movie - which could interest those considering an upgrade. If only going for a long weekend, travellers can't afford to waste time with pins and needles and jet lag - problems that can be cured by the lie-flat beds available in business class.

It was revealed by NYCvisit.com that 1,123,000 British people visited New York in 2006 - making the UK the top tourist market for the Big Apple. And, once you've stocked up on the plane, a trip to the city offers a choice of 18,000 eating establishments which cater for all tastes and budgets. If AITO is right and the Sex and the City girls really have reignited interest in short breaks to New York then business class is the perfect way to arrive in true Carrie way: totally in style.

Whether you're taking a long-haul flight and want to stretch out in luxury, or taking a shorter trip and upgrading for a bargain price - upgrading really is the business.