Premium Classes vs Economy

Flying economy class can be quite an ordeal, particularly when flying long-haul. It isn't just the fact that you're usually stuck in a seat that isn't exactly roomy. The food that is served sometimes leaves something to be desired and, on the more crowded planes, your ears ring to the sound of wailing children and scolding parents for most of the flight.
The Great Class Divide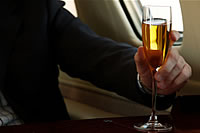 But what if, for once, you splashed out and went first-class instead? Despite the proliferation of low-cost airlines and a general thirst for cheapness, a large number of savvy travellers continue to avoid the dubious delights of what has been termed 'cattle class' in the USA by flying in Premium cabins. What exactly is it they enjoy that you simply can't get back in economy class?
Space: the flyer's frontier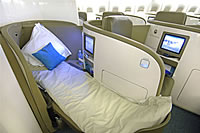 As already mentioned, space to stretch - or even to just sit in a normal position - is often at a premium in economy class. Let's take as an example the seating on the Boeing 747s that carriers such as United Airlines fly from the USA to destinations worldwide. As these planes are mostly used for long-haul flights, seat space should probably be studied before booking a ticket.

According to the all-knowing SeatGuru website, the average amount of room between your economy seat and the one in front of you - known as seat pitch - stands at 31 inches, which is barely enough room to stand in, never mind bend your legs so you can perch on the seat. However, if you were to upgrade to first-class, you'll find that you have a whole 70 inches in which to luxuriate - more than double the economy seat pitch.

Differences in seat width are also notable, although not quite to the same extent. Economy flyers get 17 inches of space to squeeze into, while those in first-class get 20.5 inches to wriggle about in. In addition, while the close quarters of economy class mean that it is impossible to fully recline your seat without hitting someone on the head, most first-class cabins include seats that can comfortably go fully flat as standard.

Outside of your immediate vicinity, there is also generally more room to walk about in as the aisles tend to be wider than those in economy and less risk of whacking your head on the underside of low-slung baggage compartments. Premium flyers also have the privilege of getting to leave the plane first upon landing, making the checking out process slightly quicker.

One airline that has gone above and beyond standard premium offerings in terms of comfort is Singapore Airlines, whose first-class Suites - only available aboard the Airbus A380 - are something else entirely. Lucky passengers here get an almost fully-enclosed space to themselves containing a full bed, large screen television, comfy chair, ample storage space for belongings and the highest quality food and service.
Service with an extra mile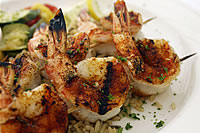 Once you've worn out the novelty of your extra-large seat, you'll soon find that the service in first-class is exactly that. Free high-quality booze - nothing like the meagre plastic cupful of champagne you get in economy - is common on many flights and if you dare to refuse this kind offer you will only receive it again and again until you gracefully accept.

The food is generally fantastic - at least compared with what those in economy get - and is sometimes served on real plates with real silverware, as opposed to flimsy foil trays that are prone to ripping open at every opportunity. Some airlines even manage to get celebrity chefs, such as the likes of Gordon Ramsay (for Singapore Airlines) and Michel Roux (British Airways), to oversee cooking for premium cabin passengers.

The dishes served in first-class can vary wildly from airline to airline. Most try to cater for all kinds of tastes, with traditional dishes such as a roast dinner rubbing shoulders with more eclectic cuisine - anyone for seafood, broccolini, piko piko, baby onion and walnut sauce hotpot (Air New Zealand)?

Air stewards and stewardesses also tend to be extremely helpful and aim to meet most, if not all of your needs. As there are fewer passengers in first-class than in economy, they are able to devote more of their time to the flying elite at the front of the plane and because they get to share a little of the comfort you are enjoying, they are also likely to be more personable.
Now that's entertainment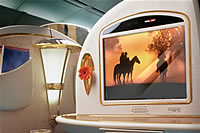 What do you do if you're on a flight from London to Australia and you haven't brought a big book with you? Check out the inflight entertainment, of course. Airlines have come a long way since the distant days of a single film for a 20-odd hour flight - usually one you've seen at least three times before.

Now you can have your pick from a range of different films and television programmes, as well as lots of audio channels packed with music and topical shows. And for the kids, video games are usually available.

Some airlines go that bit further, however. If you're travelling with Qantas between select destinations (usually to Mumbai, Hong Kong, Shanghai, Beijing and Singapore), you get to experience audio and video on demand, which means that you can stop, pause or fast-forward whatever you're watching or listening to.

And while those in economy get to watch a mere 30 films, business and first-class travellers get to choose from around 60 features. All passengers can also enjoy 120 television programmes, 20 radio channels, 120 CDs and ten games.

So which airline is the cream of the crop for entertainment? Emirates has won a string of awards for its inflight system, so it could well be the best bet for flights to and from Middle Eastern destinations such as Dubai and cities in Asia and Australia. The airline has its own satellite communications system that allows travellers to call and email friends and family, as well as send text messages. First-class passengers can watch films on a large 10.4-inch high definition screen and make use of a central fax machine and laptop recharging points.
Anything else?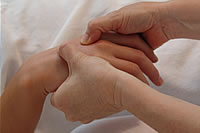 A number of airlines provide services that go above and beyond the usual offerings. Gulf Air's Sky Nanny service allows families to make use of a childcare expert who can keep an eye on young children from the airport lounge to landing - handy for weary parents dozing off in the air.

In addition, Gulf Air offers a Sky Beds service to those in first and business class, which surpasses fully-reclinable seats with extra touches such as a mug of hot chocolate or Horlicks, high-quality duvets and pillows, and the ability to transform into a cosy table for two.

There are also the perks you get before and after the flight. Many airlines allow first-class passengers to carry more luggage in terms of weight than other passengers. For example, those travelling with Cathay Pacific can carry baggage that weighs up to 40kg, compared with 20kg for economy passengers. And first-class travellers usually get to enjoy exclusive lounges that offer luxuries such as spa baths, personalised food menus, libraries and more.
Sounds like luxury travel for me...
The joys of flying first-class can make the flight a fantastic experience and when premium seats can be had for reasonable prices, it can be even better. Tickets for non-major carriers usually offer the best deals, rather than those on big airlines such as British Airways. It's worth keeping an eye out for special offers that are only available over the internet on websites like Just The Flight, where business class tickets can be had for around the £1,000 mark.