The Best Airports in the World

The typical holiday no longer begins the moment you check into your hotel. These days, the whole experience starts (and ends) at the airport, once you've checked in your baggage and find yourself with hours to kill before boarding. And with many airports now offering facilities beyond the standard sandwich and sock shops, travellers have a host of options to choose from.
Set up, log on, go surf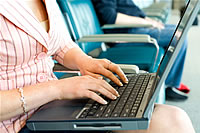 For the traveller who cannot bear to go a few hours without checking their emails, many airports now offer wireless, or Wi-Fi, internet access. According to hotspot directory Jiwire, there are over 1,500 airports worldwide that offer Wi-Fi internet access and this number is steadily growing.

Some lucky holidaymakers will be able to take advantage of free facilities, including the use of a computer, while others will have to pay a flat or pay-as-you-go fee. Others with the foresight to take their laptops with them will be able to connect to the web from wherever they're sitting.

Well, almost. A number of airports will only provide access from specific terminals and gates. In addition, many airports will offer Wi-Fi in certain clubs and lounges. For those jetting off from the UK, for example, London Heathrow offers access from arrivals, piers, satellites and departure lounges.

Elsewhere in the world, Singapore Changi International, which is constantly voted airport of the year in a host of glittering aviation award ceremonies, offers wireless access from all of its terminals and lounges, as well as numerous hotspots with free internet facilities.
That was fun... now I want to shop!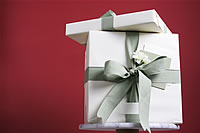 After you've looked at your emails, you may want to indulge in a spot of tax-free shopping. Savvy travellers will have looked up maps of the airport while on the internet to save time otherwise spent wandering around in a daze.

Singapore Changi lives up to its award title with a plethora of designer outlets beckoning from its malls. Holidaymakers can stock up on goods from Gucci, Prada, Hugo Boss, Nike and Mercedes-Benz, while visitors looking to spend a little less can enjoy more moderately-priced shops elsewhere in the malls.

Schipol in Amsterdam is another ideal airport for a spot of shopping. Well-known names such as H&M, The Body Shop and Guess rub shoulders with stores exclusive to the Netherlands. Other services such as a hairdressers and specialist flower shops add further to the retail experience at the airport, while electronics outlets will cater for those travellers not in need of a new haircut or a box of tulip bulbs.

Back home, airports are increasingly wising up to demand for better shopping, with Heathrow's offerings including Harrods stores and Collection, a purveyor of high-quality accessories, as well as designer and high street stores such as Christian Dior and La Senza. Heathrow also offers a handy shop now, collect later service, which allows passengers to stock up on goodies without having to cart them around afterwards, as they can be collected from the airport after the return flight.

Let's not forget that Heathrow is also home to one of the world's classiest transport hubs, Terminal 5 (T5). Shopping-wise, T5 boasts designer outlets such as Gucci, Prada, Mulberry, Kurt Geiger and more besides.
My wallet is almost as empty as my stomach...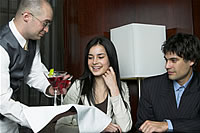 Once you've shopped till you've dropped, you might be starting to feel slightly peckish. While aeroplane food might miss the mark at times, a number of airports harbour restaurants that provide cuisine just as good, if not better than that found in some major cities.

London City Airport's Trattoria bar offers a range of seafood, salad, vegetarian and pasta options, as well as an extensive range of wines and provides a unique airside view. Further afield, Encounter at Los Angeles International has also gained praise from travellers and critics across the globe.

Johnny Rockets at Boston Logan International airport is another hit with travellers. The restaurant offers a range of traditional American fast food dishes in a 1950s setting, giving passengers the feel of landing in a time long gone. It also provides a slightly cheaper alternative for those looking to save some holiday spending money.

Passengers flying to or from more exotic locations such as Antigua and Barbuda are likely to enjoy the restaurant at the airport in St John's. Big Banana 17∞ 61∞ offers a range of local and not-so-local offerings - including pizza, Mexican nachos, shrimp and lobster - served in a friendly atmosphere.

Across the ocean, the Crowne Plaza Hotel in Dublin has won awards for its contemporary fusion dishes, marrying Asian tastes with more familiar ones from the west, including chicken and coconut soup, Californian sushi rolls and aubergine parmigiana.

If you do choose to dine at an airport eatery, however, keep a check on the time as many airport restaurants and bars tend to block out flight announcements to retain an uninterrupted ambience.
Is it nap time yet?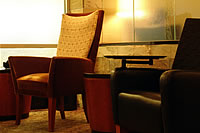 Now that the shopping and eating is over, it might be a good idea to find a place to relax. Some airports offer luxurious lounges where travellers can watch TV, have a drink, sleep and take a shower.

Hong Kong International's Cathay Pacific lounge has won a string of awards for allowing weary travellers to relax in the most lavish of surroundings. Passengers can take a lush bubble bath, sample world-class cuisine and relax with a good book in the lounge's own library.

These types of lounges are generally only available for business or first-class passengers. Despite this, high-quality lounges are also available for those who are members of frequent flyer or other clubs, so it's a good idea to research your options before setting off.

Alternatively, there are a number of passes available that allow travellers to access selected lounges across the world for an annual fee, regardless of class or club membership. Two of the more well-known programmes include Lounge Pass and Priority Pass, which can be used at hundreds of lounges worldwide. These include several 'premium' lounges in Hong Kong International, where you can take advantage of facilities such as buffets, massages and internet access.

If you're looking for a slightly more risky type of relaxation, Frankfurt Airport City in Germany runs a casino where travellers in any attire can try their hand at blackjack, roulette, slot machines and more.
What else?
More unusual airport experiences might be just the ticket for adventurous types. Those flying to or from Scotland may be intrigued by the airport at Barra, towards the southern end of the Western Isles. The airport here is located right on the beach, meaning that the tide regularly comes in over the runways, resulting in the odd stranded dolphin or other sea creature, which is then safely rescued by local firemen. Passengers can also try taking a flight in a Twin Otter aircraft an a unique experience.

All in all, the airport experience can offer more than you think. The days of spending hours sitting in the same uncomfortable chair waiting for a flight announcement are long gone. As long as you do your research beforehand, you'll be able to find a wealth of things to see and do during this previously dull part of the holiday. However, if you're travelling to or from a really out-of-the-way location, it may be advisable to take a soft cushion along just in case.