Barra Cheapest Fares
To search and book flights to Barra in 2021 and 2022, please enter your requirements and click the search button above.
Barra Fest annual event in Scotland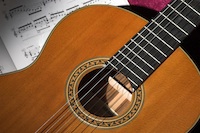 The island of Barra in Scotland, UK hosts the annual 2 day Barra Fest for music and fun. The exciting festival promotes the Gaelic language in a variety of ways including music, drama, and literature.
The destination of Barra has a distinct Gaelic history dating back to the 4th century king of Ireland. Clan MacNeil is another historical family tied to the island that adopted the Gaelic motto "Victory or Death." Heritage is extremely important to the residents of Barra and is perhaps the reason the Barra Fest has grown so strong over the years as a Gaelic music festival.
In 1981, Feis Bharraigh started the Barra Fest to promote the study and practise of Gaelic through language, music, literature, drama, and culture. It has grown from a small movement to a 42 participant festival with other Feiseans taking place around Scotland.
The festival lasts for two days with traditional Scottish music and Gaelic overtones. It also includes more modern pieces. It is always held on Tangasdale Machair, meaning the edge of the "Atlantic Ocean." The Barra Fest is held in July, typically on the last full weekend of the month, so the dates can vary.
The destination of Barra Island is close enough to the majority of the UK to make it a weekend getaway for UK residents. Flights can be taken to Scotland, followed by a drive along to the coast, alternatively it is possible to drive and take a ferry to the island.