Stornoway Cheapest Fares
To search and book flights to Stornoway in 2021, please enter your requirements and click the search button above.
Visiting Stornoway for New Year's Eve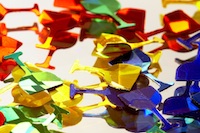 Scotland is one of the best places in the world to see in the New Year. The celebration is known there as Hogmanay, and is one of the most important events of the year. Festivities tend to be much more elaborate than in the rest of the United Kingdom, meaning that many people travel there to join in the celebrations. One particularly magical place to spend the holiday is Stornoway on the Isle of Lewis, which is renowned for its magnificent fireworks display.
The Isle of Lewis is small enough to provide a cosy, welcoming atmosphere and a feeling of being off the beaten track, but it still has plenty going on and is easy to get to. The highlight at Hogmanay is the impressive fireworks display that is famous throughout Scotland, and recently this has been enlarged even further to include a laser light show. Visitors are also likely to find a range of ceilidhs, parties and other local celebrations on New Year's Eve, all of which will provide a great experience with a traditional Hogmanay atmosphere.
Stornoway is surprisingly easy to reach from the mainland and further afield. There are regular flights to its local airport from Inverness, Glasgow, Edinburgh, Benbecula and Aberdeen. Part of the charm of this island is that visitors are able to get there quickly and easily and yet will still feel that they have completely escaped from the world, making it a perfect place to immerse yourself in the culture of the highlands.