21st century in-flight entertainment

A very thick book and the ability to sleep on whim were once the sole prerequisites for staving off boredom on a long-haul flight. However, with the advent of increasingly advanced onboard technology and other sophisticated services, travellers now have a wealth of ways in which to keep themselves amused.
What's out there?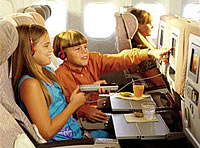 Passengers no longer have to put up with that single decades-old film they've probably seen hundreds of times before. Nowadays travellers can take advantage of seatback systems that contain hundreds of choices covering every genre and period, as well as a wide array of television programmes.

And because these are your own personal systems - at least for the duration of the flight - there's no need to watch something that someone else has chosen. In any case, airlines have phased out the now quaint tradition of screening one film for everyone to watch at a set time - video on-demand that you can stop, start and skip through as you please is now the way to go for an increasing number of carriers.

Of course, there's no reason why you should be restricted to just watching films. Many inflight entertainment systems now offer music, games, travel guides, foreign language lessons, and other educational materials to keep passengers of all ages sufficiently occupied. The only drawback is wading through all of your options and settling on just a few.

And it doesn't stop there. First-class and other premium customers can enjoy special extras like high-speed internet access and power points for laptops, while some airlines provide facilities for placing phone calls and sending text messages while in the air - a far cry from being forced to watch Erin Brockovich yet again!

In addition, those who insist on listening to their own handpicked music might want to consider flying with the likes of Air France, Continental Airlines, Delta, Emirates, KLM and United Airlines, which have all signed deals with Apple to enable passengers to hook up their iPods for playback and charging purposes to their seatback systems.
So what's best?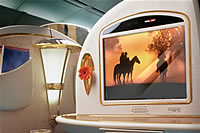 Airlines are falling all over themselves to offer the very best in onboard entertainment - which can only be good news for passengers. One way to sort the very best from the very good is to look at the awards carriers have been receiving for their efforts. In this respect, there is one clear winner - Emirates.

The Middle Eastern airline has picked up a raft of awards for its savvy use of technology to provide the ultimate inflight experience for its customers. So what is it that makes Emirates' offering so special?

Its standard entertainment system has all the essentials - modern blockbusters, foreign films, timeless classics, children's favourites, current television programmes and a host of songs and albums from artists across the globe. In addition, passengers can get an unparalleled look at the world around them during take-off and landing via a number of flying cameras.

Communications-wise, Emirates scores top marks for allowing customers to keep in touch with their nearest and dearest via phone, email and text message on certain flights. It also offers a seat-to-seat service that allows those sitting at opposite ends of the plane to talk to each other without navigating the aisles.

For those flying with Emirates on certain aircraft, the airline pulls out all the stops with its information, communications and entertainment system - known as ice for short. This package is differentiated from the standard offering through a number of extra options, such as the ability to pause, rewind and fast-forward films and programmes.

Over 600 channels of audiovisual goodies are available for consumption, including 130 films, 60 television channels, 350 radio and CD channels, and more than 40 games - enough to keep even the most frequent flier occupied for quite a while.
Feeling hungry?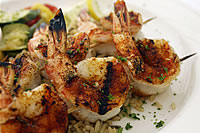 For those wanting a flight with a difference that doesn't necessarily involve staring at a screen for several hours, why not try sinking your teeth into food that is far removed from the popular stereotype of grey mush in uninspiring cardboard cartons? Again, airlines want your business and are trying harder to provide cuisine more akin to what you would get in a restaurant on the ground.

Many carriers are now turning to renowned chefs to create menus that could rival those found in top city eateries. Indeed, top chef Marcus Wareing wrote in Waitrose Food Illustrated magazine that airline meals are in fact largely better than those in normal restaurants.

So which airlines do you turn to for world-class edible delicacies? If you prefer to rely on personal opinions rather than awards, check out websites like AirGuideOnline.com, reviewers for which certainly seemed to favour meals cooked up by the likes of South African Airways. Commenting on a first-class dish comprising veal loin stuffed with pate, duchesse potatoes, and green beans, one enthusiastic passenger said: "One of the best inflight meals ever."

However, if you do want to plump for those who have picked up accolades for their food service, Singapore Airlines is one carrier that has won several titles in this arena, along with Gulf Air and British Airways.
What else?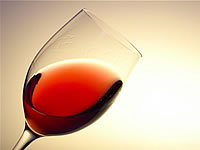 More often than not, you can now enjoy the pleasure of sipping a drink at an inflight bar - a feature that is becoming increasingly commonplace among a number of airlines. Other carriers offer specialised services such as in-air massages and nannies to look after children, letting you enjoy your flight in peace.

What is perhaps more interesting, however, is the fact that even more advanced offerings are set to come passengers' way in the future. With the introduction of more sophisticated aircraft, airlines will be able to increase their services and impress travellers even more. The double decker Airbus A380 offers significantly more room for carriers to exploit - and Virgin Atlantic boss Richard Branson has already signalled an intent to do so by installing inflight casinos, gyms and private double beds.

With all of these extras and more to come, it is likely that life in the air will come to resemble life on the ground more and more - perhaps leaving you to wonder why on earth you bother to step off the plane at all.