Gulf Air Flights and Routes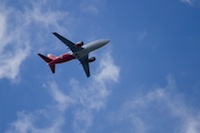 Gulf Air is a major international airline that serves over 50 destinations worldwide, is owned by the Kingdom of Bahrain
The national flag carrier of the Kingdom of Bahrain, Gulf Air, has introduced a new check-in and departure system for customers. The new system has been developed to enhance passengers' travel experience with the airline and provides a more efficient way of travelling.
The Advanced Check-in System International (ACSI) aims to make reservation, e-ticketing, booking and web check-in services much smoother and easier to use for passengers. Customers using the ASCI system now have access to a variety of invaluable services, including special service requests, travel document information, automatic selection of seat preferences and itinerary details, all accessible online at the touch of a button.
Customers of the airline will benefit from the ability to organise the whole of their journey in one place. The system is also able to integrate with and enhance the security arrangements for the airline which will in turn increase the passengers' sense of ease when travelling with Gulf Air.
The new system will also benefit the airline in terms of efficiency and monetary savings, all good news for passengers whom will benefit from these savings. Amongst the destinations covered by this innovative system are Frankfurt, London, Istanbul and Paris.