Airbus A380: Futuristic flight

Much has been made of the Airbus A380 aircraft - the largest passenger jet in the world - in the press since it was first announced by its creators. It boasts numerous technological and environmental features that seem to herald a whole new age for passenger flight. So what exactly does this behemoth double-decker plane have to offer travellers once it is in widespread use in the future?
The lowdown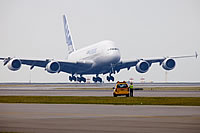 Let's take a look at the all-important stats first to get an idea of just how massive the A380 is. Each of the plane's four Rolls-Royce Trent 900 engines is capable of providing up to 72,000 lbs of thrust each, while the aircraft can seat 525 passengers over three classes or a whopping 853 people if it is fitted out as a single economy class cabin.

Overall, the aircraft measures 73 metres long and just over 24 metres high, with the cabins inside able to be up to 6.6 metres wide on the main deck and 5.9 metres wide on the upper deck. In terms of length, cabins could be as long as 49.9 metres.

Compare this with the Boeing 767 - which travels across the Atlantic more than any other type of plane - with its cabin width of 4.7 metres and an overall length of 48.5 metres, and you get some inkling of the vast dimensions of the A380.

But what does all this mean in terms of the passenger experience? The A380's superior size is able to offer travellers more space to stretch out in - a precious benefit on long-haul journeys. The two-deck design of the plane also means that airlines could choose to utilise one of the decks for passenger seating and the other deck for facilities such as a bar, meeting rooms or even a restaurant.

"This aircraft type will give airlines the ability to use the additional space in an interesting way to enhance the passenger experience," comments Anna Knowles of Virgin Atlantic, which has ordered six A380s and has the option to buy six more.

And if you regularly travel economy class, do not fear. "It is not just about business class passengers as the A380 will carry more passengers than any of its predecessors, so economy passengers will benefit from this new aircraft as well," Ms Knowles adds.
Who, when, where?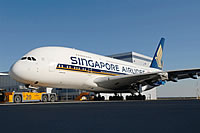 So how soon will you be able to step onboard one of these feats of engineering? Virgin is set to enter its forthcoming A380s into service in spring 2008, while British Airways will bring its newly ordered planes into airports between 2010 and 2014.

"We will unveil our A380 interior much nearer to the time but one thing is for sure - it will be as innovative as Virgin always strives to be," Virgin's Ms Knowles explains. However, the carrier's plans to install private double beds, casinos, gyms and beauty parlours onboard its A380s have already been reported - suggesting that the carrier will go to great lengths to provide the ultimate flight experience.

Meanwhile, Singapore Airlines, the first airline to take delivery of the A380, has already begun using the aircraft to fly between Singapore and Sydney. Emirates and Qantas are among the other carriers that have placed orders for the plane.

There are few limits to how far the A380 will be able to fly - from Paris, the aircraft is capable of journeying to Jakarta, Buenos Aires and Honolulu, while planes flying from Dubai could comfortably make the journey to Sydney and Los Angeles. Carrying a full load of passengers, the A380 has a range of 15,200 kilometres.
Is this it?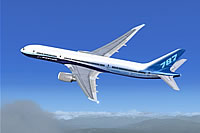 The A380 is by no means the last stop for aircraft development - there will always be bigger and better things on the horizon and, in the meantime, competitors are likely to emerge in the arena of super-efficient planes.

One such challenger is Boeing, which is set to launch its new 787 Dreamliner range towards the end of 2008. Aeroplanes from this family will be able to seat up to 330 passengers each with ranges of up to 15,750 kilometres. They look set to pip the A380 in terms of being environmentally-friendly, burning 20 per cent less fuel than today's typical planes.

Virgin and British Airways are again among the carriers that have ordered these new planes, with the latter expecting its 787s to be delivered by 2014.

"We have also ordered the Dreamliner aircraft, which are due to be delivered from 2011 onwards, and this will also be a new generation of aircraft which gives passengers an improved onboard experience," Ms Knowles states.

So if you're planning on making a long-haul trip within the next few years, make sure you keep an eye out for seats onboard one of these new planes - so you can travel in true style and comfort.