Stockholm Arlanda (ARN) Airport Guide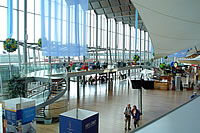 With four terminal buildings, Stockholm Arlanda is Sweden's largest airport and handles more than 50,000 passengers daily.
The airport is served by 74 carriers, which include British Airways, Iberia and easyJet, transporting passengers to 167 destinations worldwide.
Situated 43 kilometres north of Stockholm, passengers landing at Arlanda will find an excellent range of facilities and efficient transport links.
Arlanda Airport Amenities
As the country's busiest airport, Stockholm Arlanda is well-equipped and boasts an extensive range of amenities, including 35 restaurants, cafes and bars.
Passengers will find everything from fast food outlets and coffee houses to quality restaurants such as Alfredos Restaurant and Bistro, Cafe och Grill and seafood restaurant Stockholm Fisk. Those looking to sample some local delicacies can head to the Scandinavian Tapas Bar in Terminal 5, which is situated after the security checkpoint and offers a range of tapas dishes and fresh sandwiches.
Stockholm Arlanda is home to 48 shops, including duty-free stores, pharmacies, newsagents and book shops. Those hoping to pick up some last-minute gifts and souvenirs can head to Scandinavian Design in Terminal 5, which stocks well-known Swedish brands such as KostaBoda and Orrefors.
The Fine Food stores, located in Terminals 2 and 5, both stock Swedish specialities such as reindeer pate, as well as high-quality smoked fish and preserves.
Other shops worth a visit include Motiv Stockholm, which sells black and white photographs and Wasa Crystal.
Passengers in need of some serious grooming can visit the Flygfrisoren, which offers men and women's hairstyling, manicures and even eyelash extensions on every day except Sunday.
The airport also offers foreign exchange facilities, postal services, safety deposit boxes, a children's play area, a chapel and dry-cleaning service.
Travellers expecting a long wait at the airport may wish to pack their gym clothes and head to the SATS health club, which is located in the SkyCity area of the airport and forms part of the Radisson Hotel. Passengers can pay a one-off fee to use the facilities, which include a gym, saunas, spa area and solarium.
Terminals at Stockholm Arlanda
Stockholm Arlanda consists of four terminal buildings and passengers can travel around the airport grounds free-off charge with the transfer bus service.
Terminal 4 and Terminal 5 are connected by SkyCity - an area containing hotels, restaurants, conference facilities and shops.
Arlanda Transport Links
Passengers will have no difficulty travelling to and from the airport, with a wide range of public transport options available.
Travelling by train is undoubtedly the most efficient way to get around and the high-speed Arlanda Express connects the airport to Stockholm city centre in around 20 minutes.
Airport coaches serve all terminals and passengers can buy tickets from the Arlanda Visitor centre in Terminal 5 or from any of the information counters.
A number of car hire companies also operate from the airport and taxis are available outside all terminal buildings, with most drivers offering a fixed price to Stockholm centre.
Sweden's other major airport, Goteborg-Landvetter International, is situated 15 miles east of Gothenburg. Trains travel regularly between Gothenburg and Stockholm, with the average journey lasting between three and four hours.