Los Angeles International (LAX) Airport Guide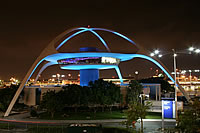 One of the busiest airports in the world, Los Angeles International Airport (LAX) handles more than 60 million passengers each year. The airport is situated 24 miles south-west of Los Angeles and comprises nine passenger terminals, which are connected by a two-level roadway.
Los Angeles International Airport Amenities
As the fifth-busiest airport in the world, in terms of passengers and cargo handled, it will not come as a surprise that LAX is home to a staggering range of amenities.
The airport has dozens of shops and those looking to snap up some last-minute gifts and souvenirs will not be disappointed. The Hollywood Store and I Love LA are both chock-a-block with sparkly gifts.
If you're down to your last few dollars and still haven't bought your mum that novelty tea towel you promised, then the $10 Boutique in Terminal 4 is the place for you.
Other stores at the airport include See's Candies, The Body Shop and Crews of California. Duty-free shopping is also available.
The airport is home to plenty of bars and restaurants and seemingly has more Starbucks coffee shops than all the other airports in the world combined.
Restaurants include the Daily Grill, Gladstone's 4 Fish Restaurant and Baja Fresh Express.
Wireless internet access is available throughout the airport and computer kiosks, available on a pay-for-use basis, are dotted throughout all terminals. Internet dataport access is also available at most public telephones.
There are currency exchange desks located in the departure halls of all terminals and post office services are available, as well as fax and photocopying facilities.
Terminals at Los Angeles International
LAX comprises nine terminal buildings, so passengers are advised to do their homework before leaving and find out which terminal they are flying to/from.
Terminals are connected by a U-shaped two-level roadway and a free shuttle bus service is provided between all of the buildings.
The Tom Bradley International Terminal is the airport's principal terminal and acts as a base for airlines including Aer Lingus, British Airways and Lufthansa.
Los Angeles International Transport Links
Passengers wishing to continue their journey by public transport can take one of the free shuttle buses to the Aviation Metro Rail Station. Shuttles are also available to the Metro Bus Centre, which serves most of the LA area.
Flyaway buses also provide non-stop services between the airport and Union Station, Van Nuys and Westwood.
Taxis can be found on the lower levels of each terminal and fixed fares are available to most major destinations.
Those making their onward journey from one of LA's other airports, such as Van Nuys, can travel by bus or taxi, with Flyaway operating a non-stop route between both airports.