Madrid-Barajas (MAD) Airport Guide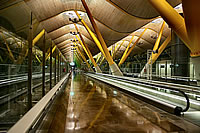 Located 12 km north-east of the capital of Spain, Madrid-Barajas Airport is found on the plain in the valley of the River Jarama and is one of the main points of entry for tourists heading to the southern European country.
Last year, the airport saw over 50 million passengers use the facilities there, or 137,000 a day.
The Madrid-Barcelona connection is the top flight path in terms of the number of operations between two European cities, seeing over 40,000 departures and arrivals in 2008.
Carriers that operate to and from Madrid include British Airways, Air China, Air Canada and Iberia.
Madrid-Barajas Airport Amenities
There are a variety of places at Madrid-Barajas Airport for travellers to indulge in some shopping, including Fashion & Fun in Terminal 1.
The store offers international fashion and accessory brands, such as Timberland, Tommy Hilfiger and Calvin Klein.
Holidaymakers looking for beverages, tobacco, perfumery and foodstuffs, among other products, can find them all in The Shop, which is also in Terminal 1.
As for places to grab a bite to eat and get some drinks, there are a variety of bars and restaurants for people to try out, including Illy Cafe in Terminal 2 which specialises in coffee.
Over in Terminal 1 travellers will find Medas Ready to Eat with some local products suitable for both children and adults, while in Terminal 3 there is El Vuelo which serves soft drinks and sandwiches among other refreshments.
Terminal 4 is home to Natural Break which offers travellers fast food to either take away or eat on premises with freshly made sandwiches and salads as well as cakes and fruit juices available.
Terminals at Madrid-Barajas
Following an expansion project at the facility to increase capacity to 70 million passengers a year, there are now four terminals at Madrid-Barajas Airport as well as Terminal 4's satellite building the T4S.
Madrid-Barajas Transport Links
There is a free of charge transit bus at the airport, which can stop off at every terminal and runs 24 hours a day.
Between 6:30am and 11:30pm the services run every five minutes, while between 11:30pm and 1:50am the transit bus goes every 20 minutes.
From 1:50am to 6:30am the free bus transit departs every 40 minutes.
There are seven public car parks available to use and a number of car hire services are open to travellers from firms such as Avis, Europcar and Hertz.
Members of the Spanish Committee of Representatives of Disabled People were asked to help in the development of Terminal 4 to ensure appropriate access to the facilities.