Air Europa Flights and Routes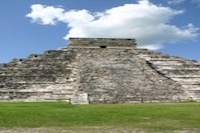 Air Europa fly to many European and some African destinations as well as having transoceanic flights to destinations such as Brazil, Cuba and Mexico
Air Europa is set to significantly increase its customer base with the introduction of a number of new routes to Mexico City, Milan, Amsterdam and Geneva.
2010 saw the company begin operating new flights to Miami and Lima in an effort to expand its international network. More recently, it has added further routes to four ever-popular destinations with both tourists and business travellers, namely Mexico City, Amsterdam, Geneva and Milan. The airline will operate four flights every week to Mexico City, departing on Mondays, Wednesdays, Fridays and Sundays. The timing of the flights is such that passengers will be able to reach their destination early in the morning, which will enable them to catch any of the connecting flights in the internal network. The aircraft used are Airbus A330-200's.
The Milan, Amsterdam and Geneva flights will operate twice a day and are scheduled for mornings and afternoons. They have been timed in such a way that passengers can conveniently schedule their visits, be it for business or pleasure. All of these routes will use Boeing 737-800 and Embraer 195 aircraft, which have seating capacities of 186 and 122 passengers respectively.
The airline has stated that it is its intention to increase its customer base while adding value at the same time. With the addition of these new routes, Air Europa has expanded its international network considerably and now caters to a wide range of destinations in Europe, Africa, America and the Caribbean.
Air Europa is a member of SkyTeam