Air China Flights and Routes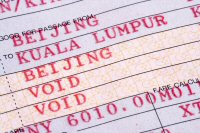 Air China has numerous routes throughout China and International flights to Europe, the Middle East, Austalasia and North America
Air China has introduced new flights between Beijing, Munich and Athens.
The new services are in addition to the brand new terminal that Air China has opened at Beijing Capital International Airport. The new passenger lounge has been introduced in an effort to improve customer service and help passengers flying with the company to enjoy a relaxed and luxurious atmosphere while they wait to board their flights.
The new lounge, which is located in Terminal 3 at Beijing Capital International Airport, is free to customers regardless of what class you are flying in with the airline. The lounge is situated on the second floor of the airport and provides Air China passengers with benefits such as showers, Wi-Fi internet access, faxing services and complimentary printing services. Air China has gone one step ahead of its competitors in order to ensure that its passengers are comfortable by introducing three separate rooms that are furnished with sofas and beds. Also included is a television and clothes rack. All passengers have to do to be able to access the facility is to make reservations via the transfer counter for Air China at the airport. This luxurious passenger lounge will be open to passengers travelling on flights from Frankfurt to Vancouver and Beijing, initially on a trial basis for first and business class passengers.
Air China is a member of Star Alliance