Miami International (MIA) Airport Guide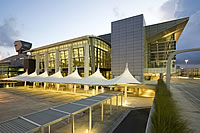 Miami International Airport is one of the world's busiest transport hubs and provides connections to 150 destinations around the globe.
The airport is served by more than 80 major airlines, which include British Airways, Delta and American Airlines.
Miami International, which is the third-busiest passenger airport in the US, has three main terminal areas - North, South and Central.
Security waiting times at the airport are among the best in the country, with 98 per cent of passengers waiting less than ten minutes to be processed by airport officials.
Miami International Airport Amenities
Passengers will find an excellent range of shops and restaurants at the airport, as well as several large duty free outlets.
Stores include Hugo Boss, the Sunglass Hut and the Havana Shirt Store. There is also a $10 Boutique, which is ideal for any last-minute essentials.
Travellers can also indulge in some pampering and preening at the 10 Minute Manicure shop and the Jetsetter Spa, where passengers can enjoy everything from manicures to massages.
When it comes to dining, there are plenty of places to choose from, with eateries including Casa Bacardi, Cozzoli's Pizza, La Carreta and Top of the Port Restaurant.
Passengers will also find a selection of coffee bars and fast food outlets such as Starbucks, Burger King and Dunkin' Doghnuts.
The airport also has a baggage storage facility, chapel, post office and information counter.
As with many US airports, Miami International has its own public art programme and regularly hosts exhibitions for passengers to enjoy as they pass through.
Terminals at Miami International
Miami International Airport is home to one main building which is divided into three areas - a North Terminal, South Terminal and Central Terminal.
Miami International Transport Links
There are several transport options available to passengers arriving at the airport. Bus services operate regularly from the airport to destinations across Miami-Dade County. The bus station can be found on the ground level of Concourse E.
The Miami mass-transit rail network serves downtown Miami and passengers can take a bus to the airport train station from Concourse E.
Several car rental companies operate from the airport, with providers including Budget, National, Thrifty, Hertz and Dollar.
Taxis are available outside the baggage reclaim areas of the airport and shuttle vans are available for larger groups.
Passengers can expect to pay between $14 and $21 for a journey to downtown Miami, with a trip to the Miami Beach area costing slightly more.