Munich (MUC) Airport Guide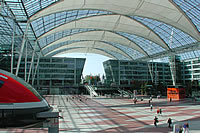 Situated 18 miles to the north-east of Munich, the city's airport is home to two terminal buildings and handles more than 34 million travellers annually.
Despite the economic downturn, Munich Airport enjoyed a record year in 2008, with passenger numbers up two per cent on 2007.
Munich was named Europe's best airport for the fourth consecutive year at the 2008 Skytrax World Airport Awards, beating off competition from 190 others.
Airlines currently operating services between Munich and the UK include British Airways and Lufthansa.
Munich Airport Amenities
Munich Airport has an excellent range of amenities and is home to over 50 bars and restaurants.
Travellers will find a good range of cuisine on offer, from traditional Bavarian food to Asian dining.
Eateries include Bistro Organic in Terminal 2, which serves up healthy food and snacks made from non-processed ingredients, as well as Gosch Sylt fish restaurant and the family friendly Ikarus.
There are plenty of shops throughout both terminals, including Bulgari, Hermes and La Perla. The airport also has several duty free stores.
As well as dining and shopping, passengers travelling through Munich can take a look around the airport's visitor centre, which even has its own aviation-themed cinema.
The airport has several children's zones, which feature touch-screen computers and enable young passengers to learn how the airport operates and planes are prepared.
In addition, there is an airport souvenir shop, where passengers can get their hands on everything from cuddly toys to an inflatable AirBus A380.
Delayed passengers or those waiting for a connecting flight can freshen up by using the airport's shower facilitates. There are three shower centres in the airport and items such as shampoo and towels can be purchased at vending machines.
Munich Airport also has its own hair salon, barber shop and beauty spa, where passengers can enjoy a relaxing treatment or massage before making their onward journey.
If all that isn't enough, Munich even boasts its own medical centre, complete with a team of doctors, physiotherapists, opticians and radiological specialists. You don't get that at Luton, do you?
Terminals at Munich
The airport has two terminal buildings which are connected by the Munich Airport Centre (MAC).
Munich Transport Links
Passengers travelling to and from Munich Airport will find several transport options available to them.
Trains depart from the airport to the city centre every ten minutes, with journeys taking less than an hour.
Passengers travelling to other major cities and European destinations can connect at the Ostbahnhof station.
Buses and coach services operate from both terminals and offer connections to most surrounding areas. Passengers can buy tickets and get information from the MAC Service Centre.
Several nearby hotels operate regular shuttle services, including Hotel Hallnberg and Hotel antoniushof Garni.
Car rental companies based at the airport include Sixt, Avis and Budget.
Passengers can also travel to Munich by taxi, with a standard journey taking around 45 minutes.