Toronto Pearson (YYZ) Airport Guide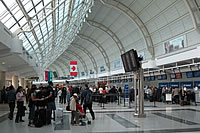 As Canada's busiest airport, Toronto Pearson International (YYZ) handles more than 31 million passengers each year and is home to 79 airlines.
The airport is located around 27 kilometres north-west of the city centre and recently benefited from an eight-year development programme.
Airlines currently operating from Toronto include Air France, Air Canada, British Airways and United Airlines, with flights available from the majority of UK airports, including Heathrow Airport and Gatwick Airport.
Toronto Pearson International Airport Amenities
Toronto has an excellent range of shops, restaurants and facilities.
The internet is available at various points throughout both terminals, although there is a small charge for Wi-Fi access.
Toronto Pearson is home to two medical centres, a number of inter-faith chapels and a passenger counselling service, as well as several bureau de change counters and an excellent range of facilities for disabled passengers.
Conference and business facilities are available Sheraton Gateway Hotel, which is home to a fully equipped business centre and had 24 meeting rooms for hire.
Passengers can also avail of the airport's shoe shine service and ten-minute manicure bars, which are located in both terminals.
When it comes to shopping, passengers certainly will not be disappointed and there is ample opportunity to pick up any last-minute gifts and travel essentials. The airport is home to dozens of stores, including Discover Canada, Lush Cosmetics, the Rocky Mountain Chocolate Factory and Sunglass Hut.
Toronto Pearson International is home to a wide variety of bars and restaurants such as Cafe Ritazza, the Arts and Letters Bistro, Friday's American Bar and the Hogtown Bar and Grill.
Culture vultures with time on their hands can take a stroll around the airport's art exhibition areas, which feature eight specially commissioned pieces along with a number of temporary displays.
Terminals at Toronto Pearson
Toronto Pearson is home to two terminal buildings and passengers should have no difficulty travelling between them. A LINK train offers a free service connecting both terminals, along with the Sheretan Gateway Hotel, Viscount Station and the car park.
The train runs 24 hours a day and is easily accessible for disabled passengers.
Toronto Pearson International Transport Links
Passengers landing at Toronto Pearson will find a range of transport options available to them.
Buses operate regularly from the airport, with the Airport Express providing a 24-hour service to downtown Toronto and several of the city's main hotels. A number of other bus services are also available and passengers can find information in arrivals.
Several car rental companies, including Avis, Budget, Hertz and Thrifty operate from the airport and 24-hour support is on hand for passengers arriving and departing.
Taxis and limousines are also available outside each of the airport's terminals and passengers requiring special assistance will find waiting areas beside the taxi ranks.