The Best Beach in the World!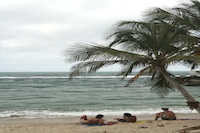 It's official – Providenciales has been acclaimed as the best beach destination in the world!
An island in the Turks and Caicos Islands in the North Atlantic, Provo, its common name, lies between Mayaguana in the Bahamas and Hispaniola, and has an area of 38 square miles and a population of about 15,542. It is thus the largest island in terms of population and the third biggest in size.
Apart from stunning beaches, Provo offers excellent diving among many miles of coral reefs near the shore. With a rich diversity of marine life, it has the added benefit of being near to a common for migrating Humpback Whales. Uninhabited bays surround it and are easily reached by boat. Remnants of Caribbean pirates are found at Osprey Rock – where the beach is covered with beautiful conch shells – and Sapodilla Hill.
The island has rugged hills and ridges covered with prickly pear cactus and brushwood. At five miles long, the lovely Grace Bay has fabulous fine white sand and, unsurprisingly, is an important tourist destination with a large number of hotels and apartments built on the seashore.
Away from the beach and small local shops, you can play golf and visit larger shopping malls. The cuisine on offer is varied and interesting – as well as local lobsters, conch and fish, there are small cafés and restaurants serving exquisite international food.
Opportunities for sightseeing include a visit to the ruins of Cheshire Hall, a 1790s plantation house constructed by British loyalists, and now preserved by the National Trust.