Bournemouth Cheapest Fares
To search and book flights to Bournemouth in 2020 and 2021, please enter your requirements and click the search button above.
Thinking of a Staycation? Think of Bournemouth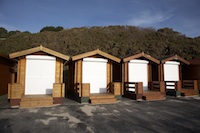 When you think of holidaying in the United Kingdom, golden sandy beaches are perhaps not the first thing you think of, but with over 11 kilometres of glistening sand, Bournemouth offers just that. A destination closer to home has become preferred for many people in recent times, and in Bournemouth you certainly will not run out of things to do.
A sparkling sea weaves its way along the kilometres of pristine beach, offering a wide variety of water sports from surfing to kayaking, jet-skiing and power-boating. Known as the 'coast with the most,' Bournemouth will help you get the most out of the water.
It's not just water sports and beaches which draw people from around the United Kingdom to Bournemouth, as they expand their tourist attractions to make the most of those choosing against going abroad for their holidays.
With a great selection of shops, splendid restaurants serving locally sourced food, and a wide range of art galleries and museums, Bournemouth really does offer something for everyone in this ideal family holiday destination.
Perhaps you would prefer a relaxing holiday. Bournemouth can help. With pier-to-pier walks, you can enjoy a leisurely stroll from Bournemouth to Boscombe Pier, enjoying some great British ice cream as you go. Maybe you'd prefer to take in high tea at one of the many sea-front hotels and watch as the more energetic visitors tackle the wide range of water sports on offer.
Whatever you seek from your holiday destination, Bournemouth is sure to offer it.