Doncaster-Sheffield Cheapest Fares
To search and book flights to Doncaster-Sheffield in 2020 and 2021, please enter your requirements and click the search button above.
The World Snooker Championships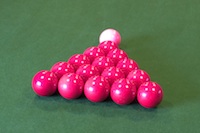 The city of Sheffield lies in the south of Yorkshire in the United Kingdom and stands upon the River Sheaf from which it gets its name. It is also the famous destination for snooker and sports fans from across the world who flock to the city every year for the World Snooker Championships.
Beginning in 1927, the World Championship has evolved into the number one major event in the snooker world, both in terms of prize money and ranking points. The destination for the competition is Sheffield's prestigious Crucible Theatre, which is probably one of the best theatres in the United Kingdom and is situated right in the very centre of Sheffield. The tournament is played over 17 days in late April and early May every year, and is the third of the three Triple Crown events of the snooker season.
The Championships have showcased a number of world class snooker players over the years, all who have walked to the centre of the Crucible stage to play over 1000 frames for the coveted title of World Champion. Snooker greats such as Jimmy White, Ronnie O'Sullivan, Stephen Hendry, John Parrott, Steve Davis and John Higgins have all graced the stage to play against each other in front of the live audience and the world's cameras.
Many sporting records have been made over the years include Joe Davis winning the Championships a staggering 15 times between 1927 and 1946 and in 1990, at the tender of 21; Stephen Hendry became youngest ever Champion.