Sit Back and Relax in the Azores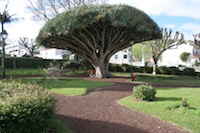 The Azores are a group of lush, green islands located in the Northern Atlantic Ocean. Consisting of nine main islands, each island has its unique characteristics that make it worth a visit. Faial is one of those islands, a charming and lovely one at that, which makes Faial a great destination worth considering.
Faial is a pretty small island and because of this, there is only one municipality in Faial, which is its capital, Horta. Horta is a lively and bustling town despites its size, and has many sights within itself worth exploring. Start by visiting the "mother" church, also known as Sao Salvador Church, then other churches of Horta such as "Our Lady of Anguish Church". Complete your tour of these religious marvels by visiting Horta's chapels, most notable The Chapels of "Nossa Senhora do Pilar" and "Nossa Senhora da Guia", where you can get a great view of Horta from the terraces.
Horta is full of magnificent structures. Visit the Clock Tower and the Santa Cruz Fort, a notable structure which has been converted to an inn. Also visit the fortifications of Horta, most notably the large iron gate of Porto Paim and the Walls of St.Sebastian. After you're done with that, that wraps up the city tour.
Besides the city tour, there's also other areas to explore on Horta. Visit Porto Paim, a beautiful beach with calm, blue waters to complete your beach experience. Also worth visiting is Mount Carneiro, which offers spectacular views of the islands of Faial and Pico.
Slow, relaxed, friendly and charming, Horta makes a perfect destination for any traveller.