Porto Santo Cheapest Fares
To search and book flights to Porto Santo in 2022 and 2023, please enter your requirements and click the search button above.
Porto Santo – a holiday that improves your health!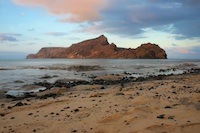 As you stroll along more than five and one half miles of soft white sands you will find just a handful of hotels and restaurants, making Porto Santo one of the least unspoilt island destinations in Europe. Part of the Portuguese archipelago that includes the island of Madeira – in the Atlantic Ocean just off the coast of Africa – Porto Santo's volcanic sands have long been held to have restorative powers that will treat your aches and pains and ensure you return to good health. This destination shares some of its cuisine with Madeira, so food is invariably plentiful, fresh and delicious.
Outside the main town of Vila Baleira, the western part of Porto Santo is the focus of most activity on the island, with beaches, diving, horse riding and golf on offer. The town itself is generally peaceful, getting livelier on Fridays and Saturdays in the summer when weekend visitors arrive from Madeira. Home to the Christopher Columbus Museum – he married a local girl – it offers the island's chief shopping opportunities.
The hills provide great views and you can visit working wine farms and the luxuriant oasis at Quinta des Palmeiras, home to exotic plants and birds.
Porto Santo has an isolated, craggy northern coastline mostly unreachable by road, apart from oddly shaped rock formations at Fonte da Areia. The village of Camacha is home to an intriguing museum of local artefacts. The eastern part contains two of the island's highest peaks and some of its emptiest and most compelling landscapes.