Managua Cheapest Fares
To search and book flights to Managua in 2020 and 2021, please enter your requirements and click the search button above.
Managua Carnival is full of feathered Costumes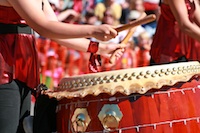 Managua, Nicaragua is the largest city in Nicaragua in terms of population and geographic size, and is home to the Managua Carnival. This is an annual event marked by its beat of drums and smiling dancers. The annual festival lasts all day and night, with impressive handmade costumes, floats, and a superior sound system.
Managua is a sprawling city along the coast of Xolotalan. It is surrounded by water and rising mountains with lush forests yet complete with a city centre. The city has been worthy of many descriptions in classic novels for its beauty. Places to visit at this destination are the historic center, the Old Cathedral, the Palace of Culture, the Ruben Dario National Theater, and the Peace Park, but the main event is the annual Managua Carnival which is a highlight of any trip and carries on throughout the night.
Every year the Managua Carnival is held in March. It is free to holidaymakers, apart from the food and drinks you may wish to buy. Drums beat all day and night as the dancers smilingly go by in huge, garish costumes layered with feathers. Floats filled with beauty queens and dancers move past, with music blaring from the sound systems.
The Managua Carnival has floats designed from different Nicaraguan cities, providing music native to their locations and decorated just as garishly as the costumes worn. Marching bands, hip shaking, and twirling around the city streets in vivid outfits help raise the excitement of participants and people watching the events unfold.