An Island Paradise for Watersports Enthusiasts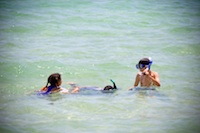 Some 1,000 miles west of the coast of Portugal lie the Azores, where the largest island in the group is São Miguel. Ponta Delgado, the capital city, stretches along a bay to the south.
During the 15th and 16th centuries Ponta Delgardo was a key staging point for trade crossing the Atlantic Ocean between Europe and the New World and many of the buildings are superb examples of the architecture of the time. São Sebastião, the parish church, is a perfect example of this, with its Baroque doorways and a high altar of intricately carved cedar wood.
The Azores are known as a hotbed of geothermal activity and this destination is an excellent base for exploring the hot springs and volcanic crater lakes, which dot the island. Caldeira las Sete Cidades is an extinct volcano with two adjoining lakes, while the town of Furnas is a spa resort bubbling with hot springs, boiling mud and thermal pools.
Being surrounded by the ocean, this destination is a paradise for water-sports enthusiasts. In addition to swimming, snorkelling, windsurfing and sailing, there is an opportunity to try out the exciting sport of paragliding. So popular has this become that every August the islands host "The Azorean International Paragliding Encounter".
Not unexpectedly the cuisine in Ponta Delgado has a strong bias towards a multitude of fish dishes, though good quality meats, cheeses, fruits and vegetables are also available. A wide range of accommodation is available, from hotels to camping, suitable for all price ranges.