Tarom Flights and Routes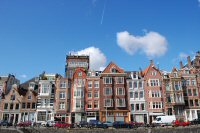 Tarom is a worldwide airline that has routes to many destinations including Syria, Jordan, Romania and Israel
TAROM the Romanian airline, has launched an innovative new 'City Hopper' service, which is aimed at frequent travellers. Passengers who take advantage of the deal pay a single fare for a ticket, which will allow them to visit several tourist destinations. The tickets remain valid for one year from the date of purchase.
The City Hopper scheme involves a package of three tickets, each of which are valid for a return flight from Bucharest to a choice of 22 destinations, which include a number of European cities, such as Amsterdam, Barcelona, Brussels, London and Munich. Also included are destinations slightly further afield; for example, Amman, Beirut and Cairo. The price of the various packages available offer substantial savings over the standard fares for these routes. Packages are available directly from TAROM or from accredited travel agents.
The City Hopper package is designed to provide travellers with three mini-breaks, with a minimum of three nights stay at each of three destinations. It is also possible to use the tickets to put together an extended stay of up to two weeks. Travellers could choose to spend two weeks at each of the destinations or vary the length of stay as required.
This offer is expected to be just the first of a number of leisure and business travel promotions from TAROM and there are similar schemes in the pipeline. If the offer is successful, it is likely to run for an extended period of time.
Tarom is a member of SkyTeam