New York Newark (EWR) Airport Guide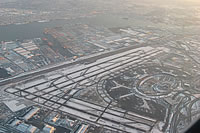 New York Newark is located around 16 miles south-west of New York City and handles more than 35 million passengers annually.
The airport is served by major airlines including Delta, American Airlines, KLM.
Officially opened in 1928, the airport is set across 2,027 acres of land and is home to three terminal buildings.
Newark Liberty International Airport Amenities
As a major international airport, Newark has an excellent range of passenger facilities across its three terminals.
Holidaymakers will be spoilt for choice when it comes to dining, with restaurants including TGI Fridays, Dick Clark's American Bandstand, Garden State Deli and Bar and O'Brien's Grille, as well as several fast food outlets and coffee houses.
There is a good range of shops at the airport, including several duty free outlets, so travellers should have no difficulty snapping up any last-minute gifts and souvenirs.
Stores include American Scene, Erwin Pearl, Virgin Records, the Ron Jon Surf Shop and Smithsonian Treasures of the World.
In addition, there is a beauty spa in each terminal, offering relaxing treatments such as massages and facials.
For business passengers, conferencing and office facilities are available in the airline lounges, as well as at the New York Newark Marriott Hotel.
Terminals at New York Newark
The airport has three terminals, all of which are connected by an AirTrain system. Trains run to all terminals every three minutes between 5am and midnight and every ten minutes during the night.
Newark Liberty International Transport Links
Passengers will find ground transport information desks in the baggage reclaim areas of all terminals.
Newark Liberty International Station is connected to the terminals by the AirTrain service and, from here, travellers can make their onward journey by bus or train.
Regular services are available to Penn Station, where passengers can connect to subway trains serving central Manhattan.
Bus services also run to destinations such as Queens and Brooklyn, as well as Grand Central Station and Bryant Park.
Taxis are widely available; however, travellers are advised to ensure they use a registered car and agree a fee in advance.
Those making their onward journey from New York's JFK Airport can travel by train to Manhattan and take a connecting train from there.
Several major car rental companies operate from the airport, including Avis, Budget, Dollar and Hetrz. In addition, there is an Enterprise Rent-A-Car facility located just outside the airport grounds.