Berlin Tegel (TXL) Airport Guide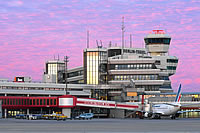 Situated in the heart of Berlin, Tegel Airport is the city's busiest airport and popular with tourists and business travellers alike.
The airport has enjoyed constant growth in recent years and handles around 415 flights daily, including services to long-haul destinations such as New York and Bangkok.
Tegel comprises two terminal buildings and is located around five miles north-west of the city centre. It was announced recently that the airport will stop operating flights in 2011, following the redevelopment of the Schonefeld Airport, which will be known as Berlin Brandenburg International. Traffic from Tegel will move to the new airport.
Airlines currently serving Tegel include easyJet, Lufthansa, Air Berlin and Air France, with flights available to UK airports such as Bristol, Luton Airport and Heathrow.
Tegel International Airport Amenities
The airport has an extensive range of amenities and a good range of shops, bars and dining venues.
As well as several fast food outlets and coffee bars, travellers will find sit-down restaurants including the Red Baron, Ess Bahn, Leysieffer Bistro and Segafredo.
Tegel is home to dozens of shops and travellers should have no trouble picking up any last-minute gifts or essentials. Stores include Beauty Place - which stocks a selection of perfumes, cosmetics and jewellery - and Berlin Berlin, where passengers will find a wide range of German gifts and souvenirs. Duty-free stores can also be found in the airport's departure areas.
Wireless internet access is available at various points throughout the airport; however, it is worth noting that there is a fee for this and the service can only be accessed by passengers who have a wireless LAN card in their PC.
Travellers will also find a post office, bureau de change services and banking facilities on site.
Terminals at Berlin Tegel
The airport is home to two terminal buildings which are located within walking distance of each other. Terminal A is the largest and home to the majority of shops, restaurant and passenger facilities.
Tegel International Transport Links
Taxis are available outside the arrivals area and the city centre is just a short journey away. Alternatively, catching the bus is a cheap and convenient option, particularly for those travelling light.
Buses depart regularly, serving most parts of the city and information on routes and prices is available from kiosks in the main arrivals hall.
Renting a car is also an option and a number of hire companies operate from Tegel, including Avis, Europcar and Hertz.
Berlin's other major airport, Schoenefeld, is located to the south of the city and passengers can reach it by taking a taxi or one of the buses which are available outside the terminal building.