airBaltic Flights and Routes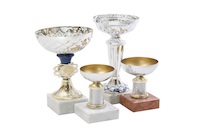 Established in 1995, Latvian national airline airBaltic connects its two principal hubs in Riga and Vilnius with a wide range of destinations throughout Europe, using a fleet of Boeing and Fokker aircraft.
The Latvian based AirBaltic airline has been nominated by the Jury of Baltic PR Awards for three distinct categories. These categories include customer relations, achievements in international communications, and the category of crisis communication. The company has also been recognised for achieving its business goals.
Over the past year, AirBaltic has received several globally recognized awards. AirBaltic has appeared in more than 15,000 world-wide publications and has participated in more than 700 global media visits. Such media visits include publications that include The New York Times, Die Welt, BBC, Forbes, Helsingin Sanomat, The Daily Telegraph, CNN Traveller, Borsen, Handelsblatt, Elle, Kauppalehti, Air Transport World, Metro, GQ, and Itartass.
During the Iceland volcano disruption, AirBaltic took the lead by creating a unique information station where passengers could receive help if they were stranded in airports outside of their own country. It was for creating this online channel and social media hub that the company was nominated for the award in crisis communications.
AirBaltic has previously won the Pacesetter Award, which recognises airlines for their achievements in hybrid transportation. This award was from The Jury of the Budgies World Low Cost Airline. AirBaltic was also recognised as Airline of the Year with a Gold Award from the European Regions Airline Association. They were recently awarded the Air Transport World Phoenix Award, which is a global award for business reconstruction.