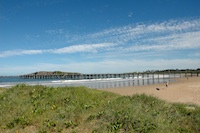 Book cheap flights to Australia by selecting an airport destination in Australia below. Compare flights to Australia from over a hundred airlines worldwide and book online with us today.
The sun soaked island of Australia is located in Oceania between the South Pacific Ocean and the Indian Ocean. It remains an enticing destination to those in need of sun, adventure, and culture.
The pulsating cities and vibrant lifestyle of Australia have been a draw for many visitors. Composed of spectacular beaches, unique marine life, and thick bush lands, the country has a little something for everyone.
The world's largest island has dozens of airports, with Adelaide, Brisbane, Cairns, Darwin, Melbourne, Perth, and Sydney being home to the main international airports. These cities are also the primary focal points of the country, especially when it comes to tourism.
Each of these cities has its own identity and offers its own unique attractions. Adelaide, called the city of churches, is known for its mountains and the Torrens River, while Brisbane is a notorious surfer's paradise. Cairns is where the curious go to explore the Great Barrier Reef while Darwin is the perfect spot to pick up original indigenous artwork. Melbourne and Sydney are the Australian cities of all things modern, while Perth is recognized for its bell tower and large inner city park.
Australia's major industry is minerals. This makes it the perfect place to pick up a quality opal, which is the country's national gemstone. Other souvenir items unique to Australia include wool, leather, modern art, local wines, and semi-precious stones.