Alice Springs a top tourist destination in Australia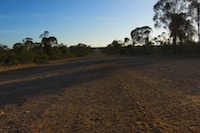 It might have once been a small outback town originally called Stuart, but Alice Springs is now a top tourist destination in Australia, thanks to investment and heritage protection.
With all the amenities of a modern city, Alice Springs strives to maintain its long history, encouraging tourists to immerse themselves in the culture of the area's native people.
Home to the Arrernte Aboriginal people for more than 50,000 years, Alice Springs, called 'Mpwante' by the Arrente, is infused with old and new. The traditional stories of the Arrernte tell of how the landscape and deserts around Alice Springs was shaped by wild dogs, caterpillars, two sisters, travelling boys and other ancestral figures. At sites that this native people has deemed of traditional importance, you will get a true feel for the historic significance of the entire region.
Located in the geographical centre of Australia, some 1,000 kilometres from the nearest ocean and 1,500 kilometres from the nearest cities of Adelaide and Darwin, Alice offers visitors the chance to immerse themselves in history. The vast desert landscapes and dry climate of the region make the call of the outback irresistible.
Whether you're walking, exploring, diving in to watering holes or four-wheel driving across the desert, Alice Springs offers you the chance of a 21st century holiday in pre-historic surroundings. Thanks to the tireless work of many, the chance to enjoy this historic destination will surely remain for many future generations to enjoy.