Aracaju Cheapest Fares
To search and book flights to Aracaju in 2020 and 2021, please enter your requirements and click the search button above.
St John Festival arrives in Aracaju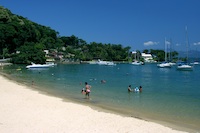 The second largest celebration in Brazil will be held in the city of Aracaju in June. One of the many festivals that make the region come alive at this time of year, the June Festival, or the Festival of Saint John, is second only to the carnival, and lasts the entire month.
This amazing festival has to be experienced to be believed – nothing compares to the excitement of the people of Aracaju at this time. Visitors will enjoy themselves immensely as they cannot help but get caught up in the celebratory atmosphere. The festival is in honour of Saint John, Saint Peter and Saint Anthony, and marks the end of the rainy season. Since colonial times, visitors to the festival have celebrated the rural life which typifies the region by dressing as farmers and square dancing to the charming traditional music, which features percussion instruments. Women braid their hair, men wear straw hats and traditional crafts are on sale at every turn.
The capital of the State of Sergipe, Aracaju is a fantastic destination for couples, families and single travellers, offering delicious food, lively entertainment and fascinating culture. It also offers beautiful beaches on the Atlantic Coast, with warm water and delicious seafood. The June Festival is fun for all the family and all are invited to join. People travel from all over the country and from further afield to join the celebrations, which are sure to be remembered. It is hard not to enjoy yourself when everyone around you is captivated by the dancing and music.