Fortaleza Cheapest Fares
To search and book flights to Fortaleza in 2020 and 2021, please enter your requirements and click the search button above.
Head to Fortaleza, Brazil, for fun and excitement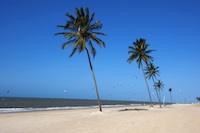 On the north-east coast of Brazil is the resort town of Fortaleza, with a population of more than two million people. With the ocean so close by, however, it often doesn't feel that busy, and even when there are crowds of people, and it makes for a very relaxing holiday.
While most of the world celebrates carnival in February, the destination of Fortaleza celebrates its at the end of July. With perfect weather and white-sand beaches, this is when you'll want to visit Fortaleza.
Known simply as 'Fortal', more than one million people come to Fortaleza to soak up the party atmosphere, the food, wine, and general merriment. Parades and processions seem to form at a moment's notice but, of course, the larger ones have very colourful floats and dancers. Acrobats tumble up and down the street, and women dressed in fabulous traditional dress strut about.
The bars in this destination are often open extremely late, or early, depending on how you look at things. Stores are stocked to bursting with goods on sale. Many of the celebrations and parades spill over onto the beaches, which is another reason that, though busy, Fortaleza doesn't feel as crowded as other cities do during its carnival time. Traditional food is served at food stalls on the street, and five-star dining can be found in several restaurants throughout the destination. Fortaleza's Carnival can be anything you want it to be but it will always be exciting.